GoPro's new Hero+ is an attractive entry-level action camera with Wi-Fi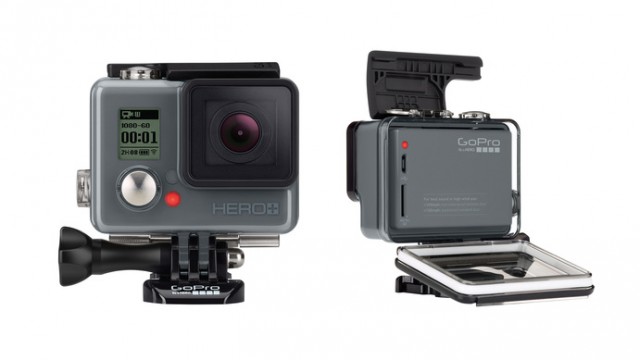 GoPro makes some awesome action cameras, but they are not exactly cheap. If you want to get one of its top-of-the-line models you will have to shell out between $400 and $500. And then you will have to add some more on top of that for different accessories. However, the company also has some pretty good entry-level options for consumers on a budget, the most-attractive of which is the new Hero+.
Hero+ slots between Hero and Hero+LCD, and might just be the best option of the three if you are looking to get into the GoPro action camera game. At $199.99, it bundles most of the best features of Hero+LCD at a price that is closer to that of a base Hero. Here is what you need to know.
Hero+ is basically a HERO+LCD that lacks one (major) feature: there is no touchscreen LCD on the back. It has the same recording capabilities and Wi-Fi support, but thanks to that difference in specs it will retail for $100 below its bigger brother, which goes for $299.99.
Just like Hero+LCD, Hero+ will be able to record 1080p and 720p video at 60 FPS (the bitrate is 25 Mbps) and snap 8 MP photos; it also supports the same time-lapse intervals as its bigger brother. Needless to say, it is also waterproof at up to 40 meters. That's a solid feature set at this price point.
Unlike Hero+LCD, however, it will not make it as easy to frame photos and videos because, obviously, it does not have that display on the back; you can still use the GoPro app though to achieve the same results. In my opinion, that is something that you can live without for $100 less.
Hero+ leaves Hero in the dust. The latter may cost $70 less at $129.99, but it is limited to 1080p video recording at 30 FPS (and at a lower 15 Mbps bitrate), 5 MP photos and a single time-lapse interval. It also misses out on HiLight tag, Wi-Fi connectivity, and GoPro app support. It is clearly the most rudimentary option in GoPro's line; it might as well be removed, as there is no reason for it to exist now that Hero+ is announced.
Alongside Hero+, GoPro has also announced a price-cut for its Hero4 Session mini action camera. It is now $100 cheaper than before, being offered at $299.99 instead of $399.99. Considering that the superior Hero4 Silver could also be had for $399.99, moving Hero4 Session down a notch seems like the smart thing to do to attract consumers. Hero4 Black and Hero4 Silver will continue to be sold at the $499.99 and $399.99 price points.
GoPro says that Hero+ will be available to consumers starting October 4.