Suspicious Windows 7 Update has users worried Microsoft's servers may have been compromised [Update]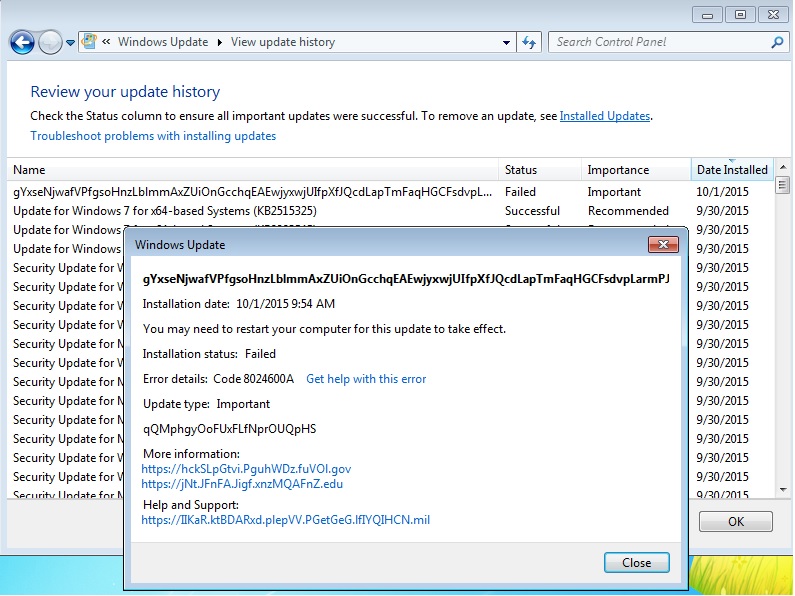 If you're a Windows 7 user, you might want to check carefully which updates you install. Users on Windows forums, Reddit and Twitter are concerned about a new "important" update that looks more than a little suspicious.
The update appears to be a language pack, but the details that accompany it are far from the usual information you'd expect to see, leaving many to wonder if Microsoft's update servers could have been compromised.
The update information is along the following lines:
gYxseNjwafVPfgsoHnzLblmmAxZUiOnGcchqEAEwjyxwjUIfpXfJQcdLapTmFaq

HGCFsdvpLarmPJLOZYMEILGNIPwNOgEazuBVJcyVjBRL

Download size: 4.3 MB

You may need to restart your computer for this update to take effect.

Update type: Important

qQMphgyOoFUxFLfNprOUQpHS

More information:
https://hckSLpGtvi.PguhWDz.fuVOl.gov
https://jNt.JFnFA.Jigf.xnzMQAFnZ.edu

Help and Support:
https://IIKaR.ktBDARxd.plepVV.PGetGeG.lfIYQIHCN.mil
The weird name and "More information" and "Help and support" site links are, understandably, what have caused alarm bells to start ringing.
We've reached out to Microsoft and will update this story once we get a response.
Have you encountered this update? Let us know in the comments below.
[Update] A Microsoft spokesperson tells us "We incorrectly published a test update and are in the process of removing it". Panic over.