Microsoft reveals new Windows 10 Mobile flagships: Lumia 950 and Lumia 950 XL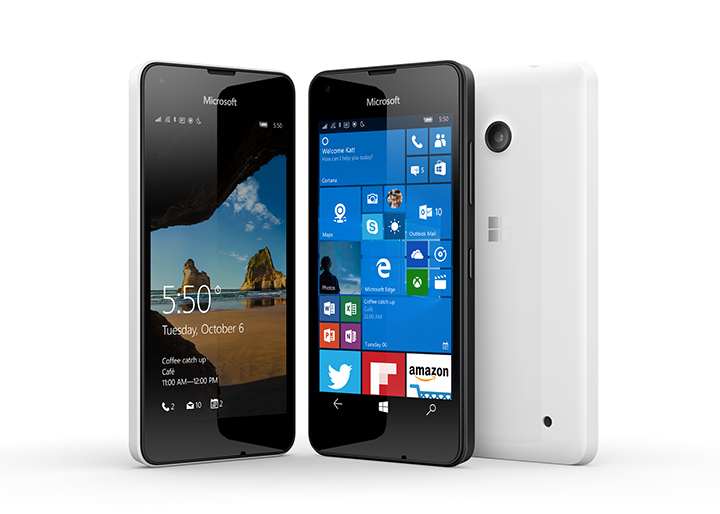 Microsoft's new Windows 10 Mobile flagships are not the best-kept secrets in the world, as the software giant itself has accidentally revealed the official presentation photos and some of the more-important specifications on its UK online store before the big launch. Today we get to see the big picture, however, as Microsoft officially announces Lumia 950 and Lumia 950 XL.
Lumia 950 is Microsoft's answer to popular flagships like Apple iPhone 6s and Samsung Galaxy S6, while Lumia 950 XL serves as the company's flagship phablet, taking the fight to Apple's iPhone 6s Plus, LG's G4 and Samsung's Galaxy S6 edge Plus and Galaxy Note 5, just to name a few of the most-important players in this segment. Here is what you need to know about the new Windows 10 Mobile ambassadors.
Lumia 950 is designed to keep up with all the latest Android flagships, packing a 5.2-inch OLED display with a resolution of 1,440 by 2,560. That is on par with Galaxy S6 as far as the resolution is concerned, but the display is slightly larger. Obviously, it dwarfs iPhone 6s on both counts.
Inside, there is a hexa-core Qualcomm Snapdragon 808 processor, backed by 3 GB of RAM and a 3,000 mAh battery. The same processor is used by LG in its G4, but, for instance, Sony employs the more powerful Snapdragon 810 in its new Xperia Z5.
SEE ALSO: I'm sorry, Lumia fans, but Microsoft Continuum can't run two apps side-by-side
Lumia 950 features a 20 MP camera on the back, with Zeiss optics. There is a dual LED flash next to it, as well as optical image stabilization and 4K video recording support. On the front the smartphone features a selfie-friendly 5 MP shooter.
With regards to storage, Microsoft has equipped Lumia 950 with 32 GB of internal space and a microSD card slot. Galaxy S6 offers as this kind of storage space in its base version, but does not offer a microSD card slot; that said, it can be ordered in a 62 GB configuration. Meanwhile, iPhone 6s continues to start at the 16 GB level, but is also offered in 64 GB and 128 GB models.
Another noteworthy feature is the reversible USB-C connector, which lets you plug the cable in both ways. Needless to say, Lumia 950 supports 4G LTE networks.
Microsoft says it will cost $549, and go on sale in November.
Moving on to its bigger brother, Lumia 950 XL, Microsoft's new phablet features a 5.7-inch OLED display with the same resolution as found on Lumia 950. This matches Galaxy Note 5 and Galaxy S6 edge Plus, but exceeds iPhone 6s Plus' specifications in this department.
Power in Lumia 950 XL's case comes from an octa-core Snapdragon 810 processor with 3 GB of RAM, and a 3,300 mAh battery. The chip of choice represents the best that Qualcomm has to offer at the moment, and it now should avoid the overheating issues that were connected to the first iterations of the processor.
In the imaging department, Microsoft has used the same hardware as found in Lumia 950 for Lumia 950 XL, so it offers the same 20 MP camera with Zeiss optics in the back and 5 MP front-facing shooter as its smaller brother. But, Lumia 950 packs a triple LED flash instead of the dual LED flash found on Lumia 950.
Like Lumia 950, Lumia 950 XL has a USB-C connector and 4G LTE support. It will cost $649 when it goes on sale in November.
Both smartphones support Continuum, a mode which basically allows users to hook up their devices to a monitor and use it like they would a PC. Microsoft will sell a display dock to enable this connection.