Easily transcribe media files with Listen N Write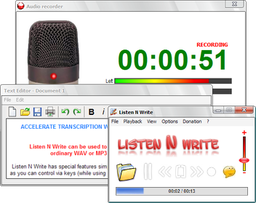 If you need to transcribe a media file then you could just open it, click Play, launch Notepad and start typing.
That'll work well, too, for about five seconds, until you have to start hitting Play/ Pause, stepping backwards or forwards, and generally spending more time switching between the apps than transcribing.
Listen N Write is a free portable application for Windows which uses several tricks to simplify the transcription process.
The program opens with two windows, a media player and a basic (but "good enough") text editor. Open your media file (audio or video), click Play and the program starts playback.
Listen N Write starts by playing 5 seconds of audio, then pauses for 2 seconds. You're able to adjust these delays if you like, but they're reasonable defaults which give you time to listen, start typing, but not feel overwhelmed by trying to keep up.
If you're still typing at the end of the pause, Listen N Write waits until you've finished, and then it plays the next 5 seconds of audio and pauses again.
This does a lot to aid transcription all on its own, but you also get buttons and hotkeys to manually pause and resume playback, or jump backwards and forwards by a few seconds.
If it's still too fast then you're able to adjust playback speed to something more comfortable.
A Bookmark system enables key sections in the file to be marked for speedy recall later.
We found the default settings worked well, but if you have any problems then all the key delays and features can be tweaked in a click or two via the Options menu.
Listen N Write is available now for Windows XP and later.