Apple releases official battery case for iPhone 6s, iPhone 6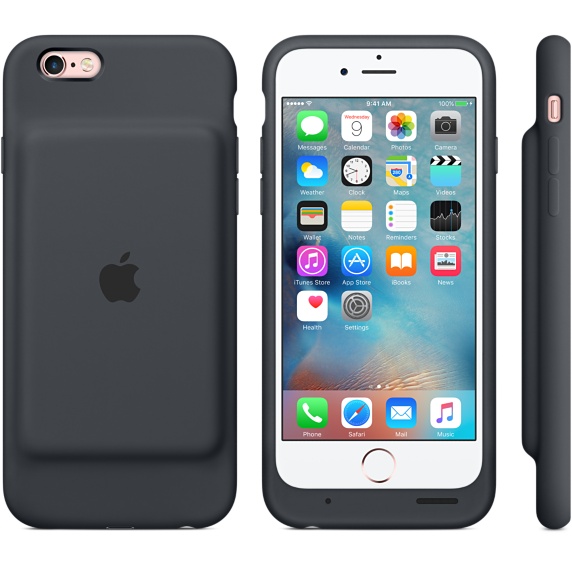 Battery cases have proven to be very popular with iPhone users, as they protect the device and greatly improve battery life without having to sacrifice much in terms of usability. Even though there are lots of options to choose from, even for Plus-sized models, Apple is now adding its own interpretation to the fold.
Unlike other accessory makers which focus on both the standard and the Plus models, with its first iPhone battery case, called Smart Battery Case, Apple is now only targeting iPhone 6 and iPhone 6s users. Is it worth considering?
Apple claims that, with a Smart Battery Case installed, users can expect battery life to extend up to 25 hours for cellular calls, 18 hours for 4G LTE browsing, and 20 hours for video playback. How much does the battery case itself add?
The standard estimates for both iPhone 6 and iPhone 6s are: up to 14 hours for calls, 10 hours for 4G LTE browsing, and 11 hours for video playback. So, the battery case itself would add 11 more hours of talk time, eight hours of browsing via 4G LTE, and nine hours of video playback. Not too shabby.
The added battery life that Smart Battery Case promises to offer would put iPhone 6 and iPhone 6s on the same level as iPhone 6 Plus and iPhone 6s Plus in terms of talk time (the bigger devices claim up to 24 hours), but far ahead of the two in terms of 4G LTE browsing (18 hours vs 12 hours) and video playback (14 hours vs 20 hours).
As expected from an official iPhone accessory, Smart Battery Case, which can be had in either Charcoal Gray or White, is priced quite high: it costs $99. It may nearly double your iPhone's battery life, but there are far cheaper alternatives out there, that also look much better than Apple's offering. That hump on the back, which is where the battery is, is hideous. There's no other way to put it.
Anker's Ultra Slim Extended Battery Case has a 2,850 mAh battery inside, and promises to add up to 17 hours of talk time, 12 hours of browsing, and 13 hours of video playback, for just $39.99. And it is certified by Apple. So is the company's Premium Extended Battery Case, which has an even larger battery, and claims to extend battery life even more, while costing $47.99.
Smart Battery Case would be a good choice for those who want the battery life of a bigger iPhone -- even better, actually -- while keeping the overall size in check. Question is, is it worth buying over an existing battery case?