Microsoft cops Talko for Skype stuff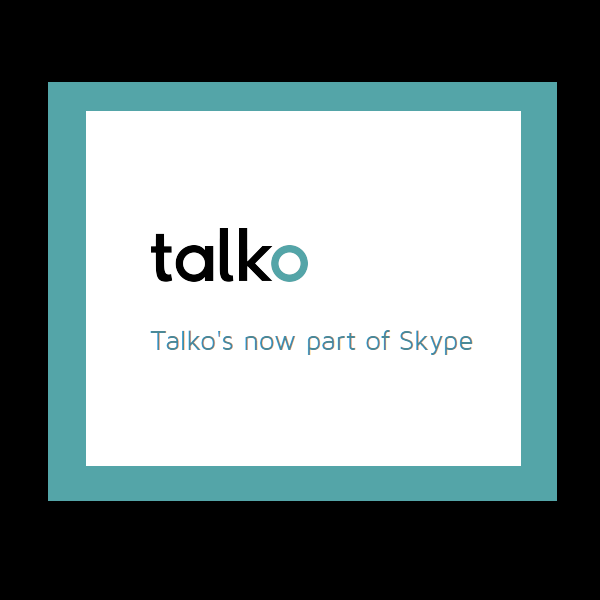 Both Skype and Skype for Business (formerly known as Lync) are good communication tools. The standard Skype is particularly great for being cross-platform. You can depend on the software being available on all major platforms such as OS X, Windows, Android, Ubuntu, iOS and Windows Phone. Skype for Business is a solid business tool, focusing on not only communication, but sharing and collaboration too.
It is imperative that Microsoft continue to improve its Skype solutions -- "evolve or dissolve", as some say. In other words, the company cannot simply rest on its laurels. Well, today, Microsoft bought a company, Talko, to bolster its famed communication solutions. Yes, Talko, a mobile communication company, is being integrated into the Skype family.
"Today we're announcing that Talko's been acquired by Microsoft to help fuel future innovation in Skype and Skype for Business. As part of the Skype team, we'll leverage Talko's technology and the many things we've learned during its design and development. We'll strive to deliver the best of our product's innovations far more broadly than on our current path", says The Talko Team.
Gurdeep Singh Pall, Corporate Vice President, Skype explains, "I welcome the new team members and am excited about how Talko will fuel more innovation at Microsoft, whether it is enhancing the way family members stay in touch with Skype or building on the new Skype for Business services within Office 365. This is another example of our company ambition to reinvent productivity and business processes. We continue to invest in new technologies to empower people to more effectively communicate and collaborate across their personal and professional lives".
It is important to note that Microsoft is not buying the company and laying off the staff. Actually, the existing Talko employees will be given jobs on the Skype Team. This is great news, as it would be heartbreaking to see these people lose jobs around the holidays.
What isn't clear exactly, however, is what aspects of Talko's technology will be used for Skype. With that said, it seems that it will be more appropriate for the Skype for Business project, which shares Talko's focus on collaboration and communication for business. This will hopefully lead to an improved mobile experience.