Two weeks with Google Pixel C [preview]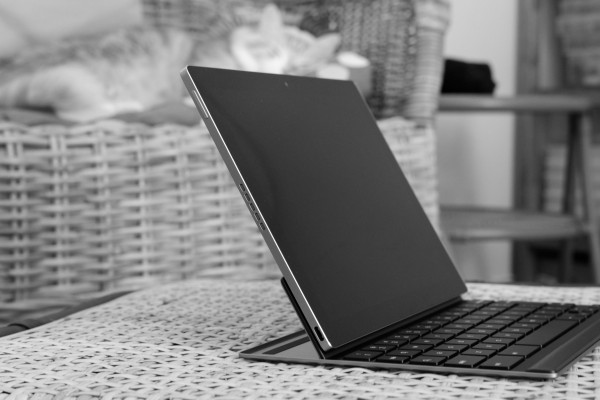 For about a fortnight, I have used Google's Pixel C as my primary tablet. I like the 10.2-inch slate much more than anticipated, particularly after being negatively influenced by some rather lukewarm techsite reviews before FedEx delivered the tab to my door.
Google designed and produces Pixel C, which is by far the best Android tablet you can buy anywhere. Like Nexus smartphones, which debuted in January 2010, the tablet is meant as a reference design for OEMs and developing Android apps appropriate for larger, but still mobile, screens. I primarily will focus on the hardware this round; apps and Android will come next year in my full review.
The search-and-information giant unexpectedly unveiled the Pixel C on September 29th. Sales started December 8th. Specs: 10.2-inch LTPS LCD touchscreen, 2560 x 1800 resolution, 308 pixels per inch, 500-nit brightness; nVidia Tegra X1 processor with Maxwell graphics; 3GB RAM; 32GB ($449) or 64GB ($599) storage; 8-megapixel rear and 2MP front cameras; four microphones; two speakers (sideways of screen in portrait mode on the bezel); USB Type-C port; WiFi AC; Bluetooth 4.1; accelerometer; compass; gyroscope; ambient-light, half-effect, and proximity sensors; Android 6. Enclosure is anodized aluminum that measures 242 x 179 x 7 mm and weighs 517 grams.
Now for some early reactions about the hardware, in no particular order of importance:
1. Design is recognizably reminiscent of Chromebook Pixel. The screen, shape, styling all are derivative. Google even added the distinctive color bar and adoption of USB C. See #5, #6, and #8 for more on shared design heritage.
The shared heritage also applies to performance, which will be covered more in the full review. For a cloud-connected computer, Chromebook Pixel is surprisingly speedy. Same applies to Pixel C, which handles smoothly and feels sporty.
2. Buttons and ports are laid out for landscape orientation; placement may disorient some users' muscle memory. Held in portrait fashion, power button is upper-right side, volume controls on right-topside, USB C port top-left side, and audio jack lower-right bottom. Turned sideways: power left-topside; volume upper-left side; USB C lower-left side, audio upper-right side.
Portrait placement is excellent, particularly for accessing volume buttons or for USB C charging. Webcam is top-front facing in this orientation, unlike iPad where iSight is left-side front. Meaning: Apple poorly places the webcam for video chats or Hangouts. Google gives better.
However, Pixel C is also meant for the browser and some other apps in portrait mode, where the layout of buttons and ports is inconvenient. You design primarily for one orientation or the other. For Apple, it's portrait and for Google it's landscape. The difference illuminates design usage philosophies, and both companies compromise.
On iPad Pro, which Apple intends to be used often in landscape mode as a laptop replacement, controls and webcam are placed like the smaller sibling tablets, which, to repeat, controls are laid out better for portrait use. Google's layout, while not as good for portrait use where web browsing (and with it all those ads Big G wants you to click), better suits both orientations than Apple's.
3. Pixel C feels heavy in the hand—and like a brick with the keyboard magnetically attached as protective cover. The heft isn't unbearable or even tiring using the tablet. iPad Air 2 weighs less than a pound (437 grams), while Pixel C climbs to 1.1 pounds (517 grams). The solid construction contributes to the sense of weightiness, which, to reiterate, doesn't discomfort me.
But i wouldn't want to lug around Pixel C for long with the $149 keyboard cover. Aluminum all-the-way around makes the touch more cold feeling, and combined weight jumps by 399 grams to 916 grams (2.02 pounds). For comparison, the 12-inch MacBook weighs 920 grams (2.03 pounds). Point: This isn't a light kit, and some people will find it to be too heavy.
4. Grip is great. The anodized aluminum shell is not slippery. As such, the hand firmly holds Pixel C, with or without keyboard cover, Drop risk is greater with iPad Air 2 but less with plasticky tablets.
5. The tablet's dimensions feel great. Regardless the orientation, Pixel C holds pleasingly, particularly as a traditional tablet longways vertical. The aspect ratio is what Google calls √2, or stated another way 1:1.41, or about the same as A4 paper. This makes the tablet more squarish than rectangular in both orientations and surprisingly more comfortable to hold and to use.
The benefits are visual and physical. Web content pleasingly presents, as do Google's homegrown apps (and presumably soon those from third-parties). The aspect ratio is closer to Chromebook Pixel's 3;2 (another sign of the shared design legacy), which is superb for photography. Google Photos app present fantastically with the √2 aspect ratio and I report about using editing apps in my full review. Pixel C could be a shooter's dream tablet, much more than any iPad.
The physical benefit is balance. The aforementioned extra heft is easily ignored because Pixel C balances so well in the hand(s) whether held in landscape or portrait orientation—and the squarish shape is major reason. Holding the tablet feels familiar, like holding a book, and handles much better than any iPad. How funny if Pixel C's killer application turns out to be the aspect ratio and physical shape.
6. Screen is gorgeous—best of class. The 10.2-inch display is crisp by every measure that matters and magnificently bright. DisplayMate puts iPad Air 2 at 415 nit, which is excellent. Google claims 500 nit, and we'll see what the industry experts give for final number. Whatever the rating, the display is plenty bright and beautiful to my eyes.
The resolution is close to Chormebook Pixel, and a bit finer—2560 x 1800 compared to 2560 x 1700, respectively. Likewise, visual quality is similar between them. Many smartphone or tablet screens, particularly those AMOLED, present bold colors and rich contrast that looks good but isn't natural; they're not what the eyes. Like the Chromebook, Pixel C presents more muted but pleasingly rich color and contrast that aren't over-saturated. Photographers, this tab could be for you.
7. Flanking speakers deliver dimension. I was a bit skeptical about Google placing the speakers on the bezel to the side rather than facing front. But I got to say, surprisingly, they give great soundstage and separation. For testing, I watched part of the Indochine Tidal X concert, portion of movie Jurassic World (streamed using Google Play Movies app), and many YouTube videos. All sound great.
They look fantastic, too, and I don't see the √2 aspect ratio as presenting problems showing 16:9 or 16:10 content. The viewing window is plenty large,and I would absolutely rate the overall experience of sight and sound ahead of iPad Air 2. Once again, Google gives better.
8. Keyboard satisfies. The keys feel good and responsive to the touch, like I would expect from a device branded Pixel. Keyboard is one of the Chromebook's biggest benefits. Peripheral attachment  is easy and magnetically holds strongly fast as Google claims. The real test of any keyboard is how your muscle memory transcends one layout to another. I find switching between the two to devices to be satisfying enough, conceding—and this applies to most tablets—near full-size layout is never nearly enough.
9. Magnetic attachment is strong, and perhaps to a fault. The keyboard can also be used as a protective cover, but should you really have to pry it off to remove? In trying to separate the keyboard as cover from Pixel C, I nearly dropped the tablet and did so the keyboard a couple of times. You've been warned.
10. Battery life depends on brightness. Google claims 10 hours battery life, which would be comparable to other tablets in the size class. However, as previously mentioned, Pixel C's screen is 500 nit, which is brighter than most, if not all, competing tabs. Kicking back brightness to, say, 75 percent, can give still satisfying visual experience while extending time between recharges.
That's a wrap, with one software consideration for anyone deciding on whether to save $100 and buy the 32GB model: Expect 21GB, or thereabouts, available storage out of the box. On my 64 gigger, I see 52.88GB available to start, of which I have used 4.21GB, mostly for apps. Since storage isn't expandable, budget buyers may later regret saving a C-note.
Photo Credit: Joe Wilcox