Google launches the Android 6.0-powered Pixel C -- a rival to Microsoft's Surface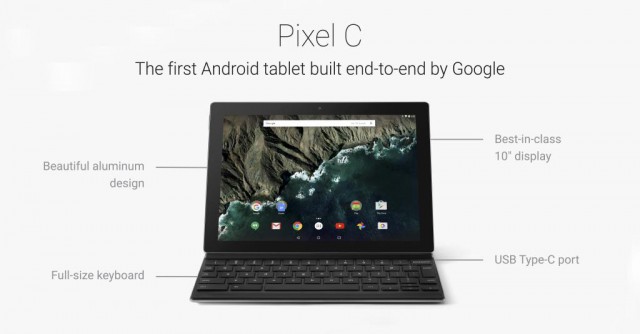 In addition to two new Nexus smartphones: Nexus 5X and Nexus 6P, Google at its media event in San Francisco today refreshes its tablet lineup. The company is calling its new tablet the Pixel C which, unlike the Pixel notebook lineup, doesn't run Chrome OS, but instead it runs the "latest and greatest" version of Android: 6.0 Marshmallow.
Unlike smartphones that continue to sell like hotcakes, tablets shipment figures aren't that pleasing. Everyone from Google to Apple to Samsung is struggling to entice users. Which brings us to the recent modern era where companies aren't trying to sell you a large tablet to just consume media content, and do basic emails. They are selling you a device that can be just as productive as the laptop.
SEE ALSO: Are we starting to fall out of love with tablets?
The Pixel C is no exception. It's a 10.2-inch tablet with a gigantic screen resolution of 2560×1800. It is powered by an Nvidia Tegra X1 processor and comes paired with 3GB of RAM. Much like the iPad Pro, and Surface Pro 3 tablets, the Pixel C offers an optional Bluetooth-enabled keyboard. It is priced at $149 and comes in aluminum and leather options. It connects with the tablet magnetically (so no kickstand or clasp) that charges itself inductively when it is physically in contact with the device.
The 32GB variant is priced at $499, whereas the 64GB variant will set you back $599. The company says that it will begin shipping the device as well as the keyboard in time for the holidays.