PC market sees biggest-ever drop in shipments, but don't blame Windows 10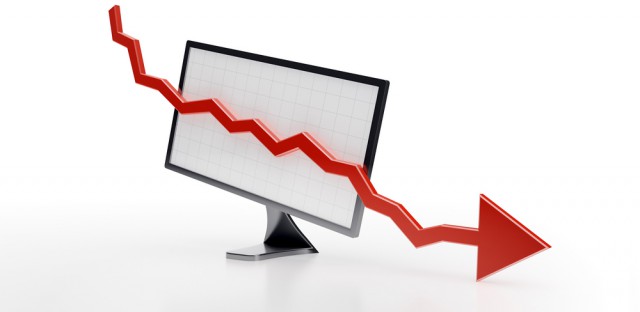 Things are not looking good for the PC market. The fourth quarter of 2015 registered the biggest-ever year-over-year drop in shipments, as IDC's Worldwide Quarterly PC Tracker revealed a 10.6 percent fall compared to the same period in 2014. For the whole of 2015, shipments are said to have dropped by 10.4 percent compared to the year prior.
Lenovo was the vendor with most PCs shipped in 2015, followed by HP and Dell. However, with the exception of Apple, all other vendors in IDC's top five have seen their shipments dropping last year. Mac shipments rose by 6.2 percent, according to the report.
Shipments for the whole of 2015 were 276.21 million units, while a year prior vendors moved 308.36 million units. In the fourth quarter of 2015 there were 71.88 million PCs shipped, while a year before vendors shipped 80.43 million units.
While it may be easy to see the continued decline in PC shipments as Windows 10's inability to attract consumers, IDC points out that the latest numbers have been influenced by a multitude of factors. The company says that the longer PC lifecycles, competition from mobile devices, economic issues, social disruptions, changes in the Windows market, and the availability of the free upgrade to Windows 10 offer that Microsoft has extended to Windows 7 and Windows 8.1 users, all played a role in how the PC market was affected in 2015.
IDC is hoping that the PC market will recover this year, as consumers will be looking to replace existing devices with new ones. "Commercial adoption of Windows 10 is expected to accelerate, and consumer buying should also stabilize by the second half of the year", adds IDC vice president of Worldwide PC Tracker Loren Loverde. "Most PC users have delayed an upgrade, but can only maintain this for so long before facing security and performance issues. We continue to believe that a majority of these users will purchase another PC, motivated by new products and attractive pricing".
IDC points out that, if it were to count detachable tablets as PCs, the year-over-year decline in the fourth quarter of 2015 as well as in 2015 as a whole would be roughly five percent and 7.5 percent, respectively. What's more, they would turn change forecasts for 2015 from a 3.1 percent decline to a growth of between one and two percent. This category is said to be "growing quickly but from a small base".
Speaking of the US market, IDC's Linn Huang says that it "fell minus 4.3 percent year over year to 17.4 million units. Although the US dollar has been strengthening in lieu of currency crises in other regions, consumers here are not immune to economic concerns that have persisted globally".
"The free upgrade path to Windows 10 allowed some consumers who might otherwise have shopped for new PCs during the holiday season to obtain a 'new' PC experience. Additionally, the launch of the iPad Pro may have siphoned off some consumer interest in traditional PCs. Consequently, the holiday season produced soft results for the US PC market", adds Huang.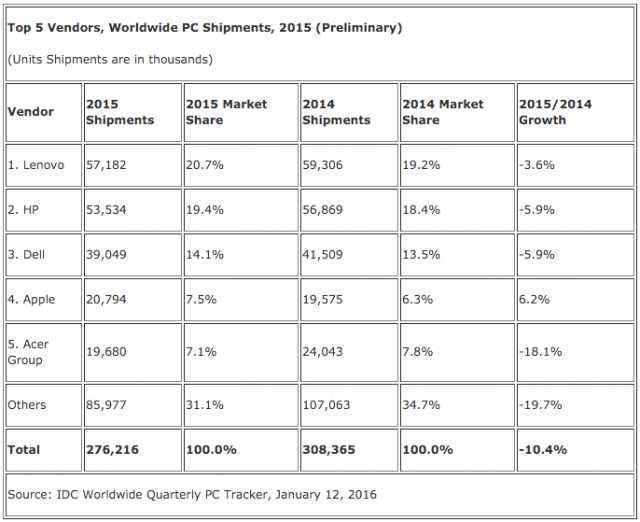 Analyst firm Gartner is more optimistic with regards to shipments in 2015, claiming that there was only an 8.3 percent decline in the last quarter and an eight percent decline in the last year. Garner paints a similar picture in its top vendors chart, revealing year-over-year drops in shipments for all the major players with the exception of Apple, which registered a 5.8 percent increase.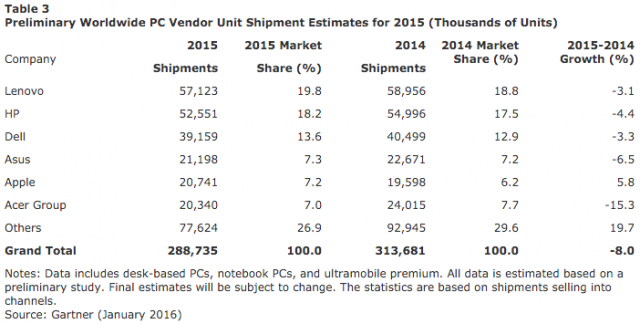 "The fourth quarter of 2015 marked the fifth consecutive quarter of worldwide PC shipment decline", says Gartner principal analyst Mikako Kitagawa. "Holiday sales did not boost the overall PC shipments, hinting at changes to consumers' PC purchase behavior. On the business side, Windows 10 generally received positive reviews, but as expected, Windows 10 migration was minor in the fourth quarter as many organizations were just starting their testing period".
Gartner expects PC shipments to decline by one percent in 2016, compared to 2015. However, Kitagawa says that the PC market will see its installed base being reduced in the coming years.
Worth noting is Asymco's Horace Dediu's claim that iOS devices trumped Windows PCs in shipments last year.
iOS overtook Windows last year, as expected. pic.twitter.com/5LgnZsxWaL

— Horace Dediu (@asymco) January 12, 2016
Photo Credit: Mopic/Shutterstock