Microsoft will let you unlock your Windows 10 PC with an app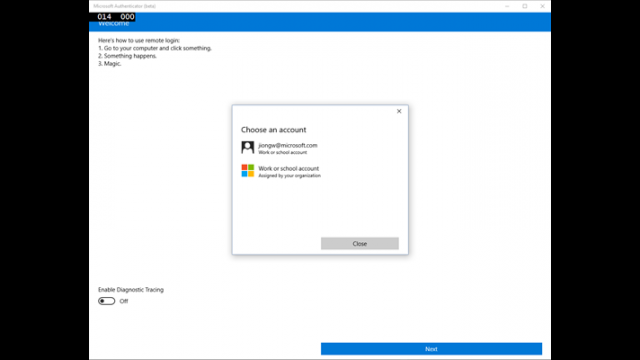 Microsoft plans to give Windows 10 users another option to speed up the process of unlocking their PCs. The software giant has introduced an app that enables remote authentication using a Windows 10 Mobile device.
Called Microsoft Authenticator, the app is currently undergoing internal testing and it seems to be designed with enterprise users in mind. Microsoft likely wants to make it easier to deal with complex passwords, which are recommended for meeting certain security guidelines.
Microsoft says that Windows 10 Mobile users will be able to unlock their Windows 10 PC using Microsoft Authenticator, with only a few taps, "after a quick Bluetooth sync". It is not exactly clear whether the smartphone needs to be nearby or not, but it would certainly make sense to verify where the authentication is being performed from to avoid running into any security issues.
Microsoft plans to enable more ways in which users can leverage the app. "Future versions will include support for Microsoft account, a sign in solution for browsers and VPN. one-time passcode generation, and MFA approval through notifications [sic]", reveals the software giant.
Based on the app's listing, there is support for Azure Active Directory and remote NGC. Obviously, to use it, both devices have to offer Bluetooth connectivity. In the case of traditional PCs, a Bluetooth dongle could be needed, especially if we are talking about desktops where such hardware is not typically standard equipment.