Griffin PowerDock Pro Premium Charging Station now available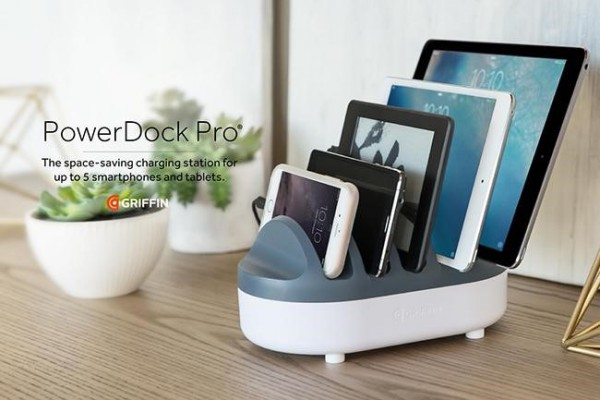 On my nightstand next to my bed, I have an iPad, Kindle Voyage and iPhone which I am often charging. While I like to keep a tidy and organized home, this ends up being a spaghetti-like mix of wires. With that said, I am sure there are people with many more devices than I, including families with multiple tablets. I shudder at the thought of all of the USB outlet adapters and cables everywhere.
Yes, it is a "first world problem", but a problem nonetheless. Today, Griffin begins shipping its elegant solution that could remedy this woe for many. You see, the PowerDock Pro Premium Charging Station will not only charge your devices, but more importantly, make it a tidy and attractive affair too.
"Redesigned from the ground up with new features suggested by users, PowerDock Pro is more powerful than ever with intelligent self-switching ports that provide a full 12 watts of optimal charging for any iOS or Android device. Its weighted base holds tablets safely and securely in place, and offers homes and offices more power than ever with five charging bays", says Griffin.
The popular accessory manufacturer further says, "PowerDock Pro's built-in ChargeSensor circuitry matches and delivers the right rate of charging power to each device for the fastest charge possible. Each charging bay is designed to accommodate any smartphone or tablet without removing its case and its new built-in cord management system and power supply eliminates messy cables. Simply lift off the top of PowerDock Pro to reveal hidden cable storage".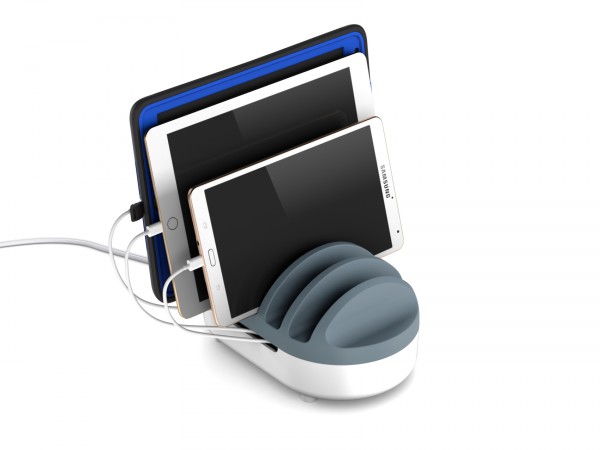 Griffin details the following features.
Five-bay charging dock for tablets, smartphones and other USB-charged devices.
Charge iOS and Android devices on the same charger.
Up to 12 watts of charging power for each bay allows max-rate charging for up to five full-sized tablets simultaneously.
ChargeSensor circuit senses and delivers proper charge to connected device without possibility of overcharging.
Built-in cord management and power supply eliminates tangled, messy cables
Stable, weighted base holds tablets safely and securely, even in their cases.
While there have been similar products before, Griffin has seemingly created something that aims to address many details and it looks like a winner. Even the price is fairly reasonable at $129. True, there may be less expensive solutions found on sites like Amazon, but when it comes to electricity, I never select unknown manufacturers.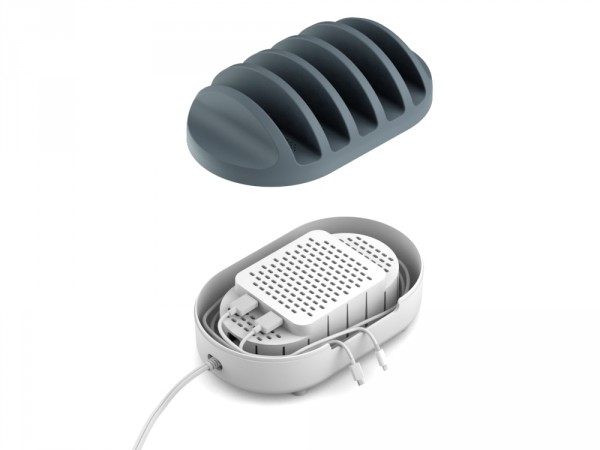 If you want to buy the Griffin PowerDock Pro Premium Charging Station, it is available exclusively at CDW here. Believe it or not, however, it is currently showing a discounted price of $76.99, so you should probably act fast.
Will you buy the Griffin PowerDock Pro Premium Charging Station? Tell me in the comments.