Microsoft's Q2 earnings are hugely impressive, buoyed by cloud revenue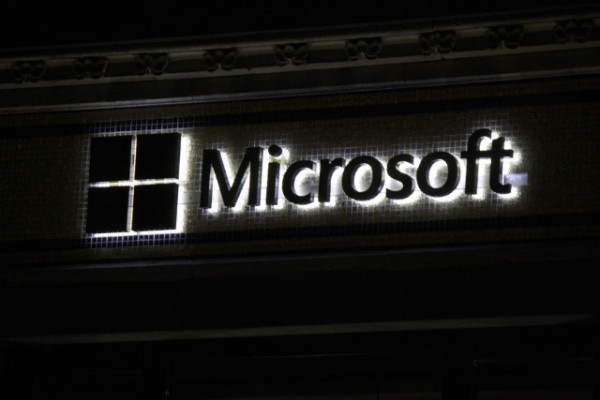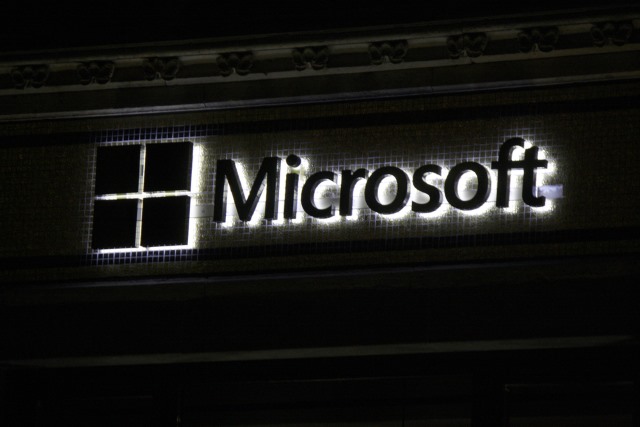 Microsoft's cloud first, mobile first philosophy seems to be paying off. The company today announced its Q2 2016 earnings, with profit and revenue exceeding predictions. Revenue fell very slightly to $25.69 billion, but this was still higher than analysts expected; the slight drop has been partially blamed on a decreased interest in Windows.
Confidence in Satya Nadella's leadership seems high, with stock prices rising by more than 26 percent in the last year. His belief in the cloud appears to be paying off, with Microsoft's Intelligent Cloud business generating revenue of $6.3 billion. Overall, the company expects its entire annual cloud revenue to hit $9.4 billion, up from $8.2 billion.
Looking to the cloud, Nadella said: "Businesses everywhere are using the Microsoft Cloud as their digital platform to drive their ambitious transformation agendas. Businesses are also piloting Windows 10, which will drive deployments beyond 200 million active devices."
Cloud revenue jumped by 5 percent, and Microsoft has a number of highlights in this area:
Server products and cloud services revenue grew 10% in constant currency
Azure revenue grew 140% in constant currency with revenue from Azure premium services growing nearly 3x year-over-year
Over one third of the Fortune 500 have chosen our Enterprise Mobility solutions, up nearly 3x year-over-year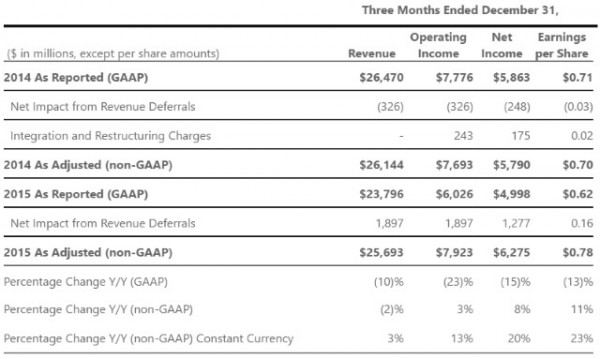 Revenue for Productivity and Business Processes sits at $6.7 billion (down 2 percent), and Office 365 now enjoys 20.6 million subscribers. Personal Computing Revenue is also down, dropping 5 percent to $12.7 billion:
Windows OEM revenue declined 5% in constant currency, outperforming the PC market, driven by higher consumer premium and mid-range device mix
Surface revenue increased 29% in constant currency driven by the launch of Surface Pro 4 and Surface Book
Phone revenue declined 49% in constant currency reflecting our strategy change announced in July 2015
Search advertising revenue excluding traffic acquisition costs grew 21% in constant currency with continued benefit from Windows 10 usage
Xbox Live monthly active users grew 30% year-over-year to a record 48 million
In addition to the decreased interest in Windows, the slight fall in revenue has been attributed to shifts in currency, but the company is understandably pleased with the figures. COO Kevin Turner says:
It was a strong holiday season for Microsoft highlighted by Surface and Xbox. Our commercial business executed well as our sales teams and partners helped customers realize the value of Microsoft's cloud technologies across Azure, Office 365 and CRM Online.
Microsoft stock rose immediately after the earnings announcement.
As well as surprise, analysts were quick to lay praise at Microsoft's door. Patrick Moorhead from Moorhead Insights & Strategy said: 
Microsoft's cloud success can no longer be looked as a "one-off" or luck, it's becoming a giant business that could give Amazon a run for its money. Amazon is a lot larger, but Microsoft is narrowing the gap.

Microsoft did better than the PC market in operating system licensing revenue than the market, but unless PC units improve, it will be impossible to increase this Windows number. 2016 will be a big year as it is very likely, that if there isn't a GDP collapse, we will see many businesses moving from Windows 7 to Windows 10.

The company is hedging their PC bets in services like Office 365 and OneDrive which performed great with >50% growth. Their iOS and Android service bets appear to be paying off.
Photo credit: 360b / Shutterstock.com