Canonical fulfills its Linux convergence vision with BQ Aquaris M10 Ubuntu Edition tablet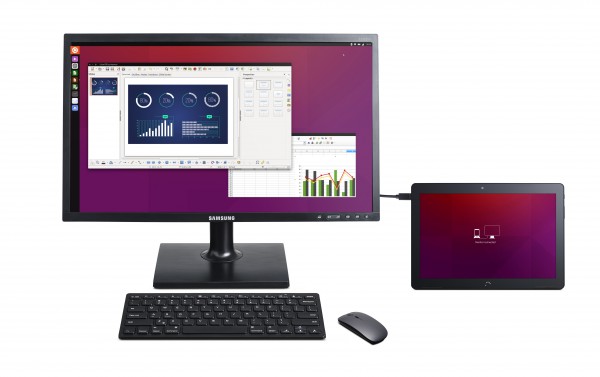 Convergence is all the rage in the technology industry nowadays and for good reason -- our handheld devices are insanely powerful. It makes sense to leverage a smartphone or tablet's processor for desktop computing. By connecting a monitor, mouse, and keyboard to the mobile device, it can serve as a full-fledged computer. Those with more hardcore computing needs, such as editing video, for example, may have to wait a while for more powerful handheld devices.
Microsoft has shown off its Continuum functionality, which turns a Windows 10 Mobile smartphone into a desktop, but because of shocking limitations, it really isn't ready for prime-time. Canonical has long been working on its own convergence plans with Ubuntu -- it is not copying Microsoft's. Quite frankly, it can be argued that the open source Linux kernel is a more adaptable base for such Swiss Army-like devices as Windows could be too bloated. Today, Canonical unveils the BQ Aquaris M10 Ubuntu Edition tablet which fulfills its Linux convergence vision. Not only can a user be productive with the tablet itself, but it can be connected to peripherals to create a full desktop experience.
"The Aquaris M10 Ubuntu Edition is the first device to offer an Ubuntu convergent experience. It is also the first tablet with the Ubuntu Operating System. Aquaris M10 Ubuntu Edition brings Ubuntu's rich full touch experience to life. It's simple to connect a Bluetooth mouse and keyboard to convert the Aquaris M10 Ubuntu Edition into a full Ubuntu PC, featuring everything you know and love about Ubuntu. Then, connect the tablet to an external display for a full-sized PC experience", says Canonical.
The company further explains, "third party developers will be able to easily create new Ubuntu applications which only need to be developed once but which can be available and used across all Ubuntu interfaces. The Ubuntu SDK provides the fundamental tools developers need to make their apps easy to adapt and run on any display. When you see your application on the phone and then use that application on the desktop, it is the exact same code running each application. Ubuntu does not need to know if the app is coded for a mobile or desktop display rather it is the application that surfaces the appropriate interface depending on which display is required".
READ MORE: 5 ways Ubuntu Linux is better than Microsoft Windows 10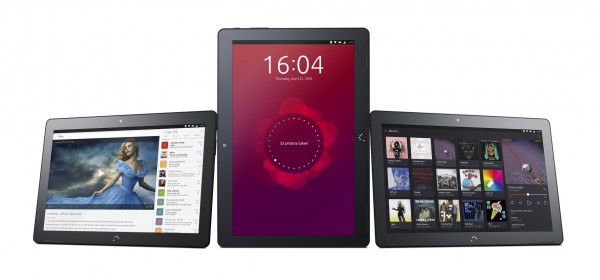 Canonical shares the following specs.
10.1 inch multi-touch screen
MediaTek Quad Core MT8163A 64-bit ARM processor up to 1.5GHz
High capacity Li-Po battery (7280mAh)
Full HD (1080p) camera for super-sharp video recording
2GB RAM
16GB internal storage
MicroSD slot for extra storage (up to 64GB)
8 megapixel camera with autofocus and dual flash
Frontal speakers
Micro HDMI port
Dimensions: 246 x 171 x 8.2mm
Lightweight at only 470g
This slideshow requires JavaScript.
For years, some people -- including myself, early on -- hated Ubuntu's default Unity desktop environment (I love it, now). Some detractors called the company insane for bringing a touch-friendly interface to a desktop operating system. Unlike Microsoft with its confusing Windows 8, however, Canonical got merging desktop and touch right. While Windows 10 is improved, it can still be confusing -- some users can't even figure out how to change the default search engine in Microsoft Edge web browser! Ubuntu's settings are far more streamlined. The Unity DE is now a beautiful and useful desktop UI that should transition brilliantly to a tablet.
The MediaTek SoC that powers the BQ Aquaris M10 Ubuntu Edition tablet is an ARM processor, meaning that there will be fewer available packages than an x86-based computer. With that said, the number of packages for ARM have increased dramatically over the year. Users should have no problem finding tons of useful apps.
READ MORE: System76 Oryx Pro is the Ubuntu Linux gaming laptop of your dreams [Review]
Not only can the M10 serve as both a desktop and tablet, but I can see it being used as a makeshift laptop too. For instance, there are countless inexpensive Bluetooth keyboards on the market -- some will even prop-up the tablet for better viewing. If you keep the BQ Aquaris M10 Ubuntu Edition in a backpack with such a keyboard, you could be productive anywhere, like a coffee shop or in a park.
Of course, the device should also be a wonderful media device for road-warriors. Don't want to pay to rent a movie in a hotel? Don't. Load some movies from a micro SD card, and connect the tablet to the hotel's TV with HDMI. If you choose to watch a movie on the tablet itself, the front-facing speakers should supply great audio quality. Exciting stuff.
Rodrigo del Prado, Deputy CEO of BQ shares his excitement by saying, "the Aquaris M10 Ubuntu Edition is our third mobile device to ship with Ubuntu. Our customers were delighted with the Aquaris E4.5 Ubuntu Edition and Aquaris E5 HD Ubuntu Edition phones, and we're excited to be the first OEM to ship the converged Ubuntu experience. It's this kind of innovation that makes BQ and Ubuntu such a great fit".
Unfortunately, pricing for this BQ-made tablet is a bit of a mystery, but Canonical promises it will be available in Q216 -- April, May, or June. Yeah, it stinks having to wait, but as they say, good things happen to those that do. Hopefully Canonical and BQ can deliver a truly solid convergence solution.
Do you think Ubuntu is the smarter choice for convergence compared to Windows 10? Tell me in the comments.