Like! Facebook Reactions launch around the world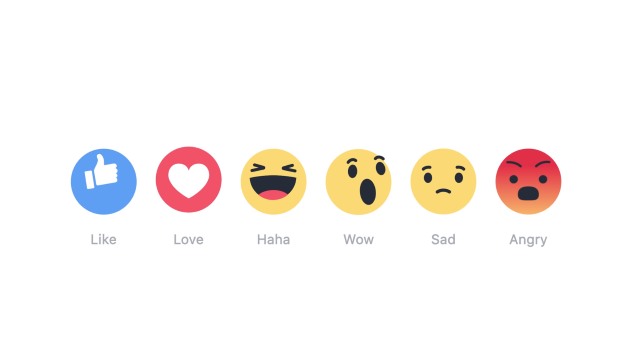 Facebook is, at long, long last, rolling out Reactions globally. The limitations of the famous Like button which have been debated since its introduction are set to become a thing of the past at the social network. Like is now joined by Love, Haha, Wow, Sad, and Angry options.
As we reported earlier in the year, the 'yay' option that had been tested is not being released at this stage -- apparently users found it difficult to interpret what it means. Reactions do not work exactly as you might expect them to, and this means you might need to be careful about how you use them to start with.
For sometime now, Facebook has taken a Like as an indication that you would like to see more of the same type of content. You might think that if you used the Angry reaction on a story Facebook would take this to mean you did not want to see such posts -- but you'd be wrong. To start with, using any of the Reactions will be taken as an indication of wanting to see more of the same as Facebook explains:
In the beginning, it won't matter if someone likes, "wows" or "sads" a post -- we will initially use any Reaction similar to a Like to infer that you want to see more of that type of content. Over time we hope to learn how the different Reactions should be weighted differently by News Feed to do a better job of showing everyone the stories they most want to see.
Page owners will be able to see the different reactions to posts, so this could still impact on the type of content individuals and companies put out there.
Using Reactions is simple, whether you're using the desktop or mobile version of Facebook:
To add a reaction, hold down the Like button on mobile or hover over the Like button on desktop to see the reaction image options, then tap either Like, Love, Haha, Wow, Sad or Angry.