What's the best Windows uninstaller?

Standard Windows uninstallers often leave your PC cluttered with unwanted files, orphaned Registry keys and assorted other leftovers. You could try to avoid this issue with a third-party uninstaller, which scans your system to find and remove everything the regular uninstaller has missed. There's just one problem. How do you know your uninstaller works? Is it really as thorough as it claims, or could it be missing important files or Registry keys, too?
We decided to find out, by building our own test application. Something that would install various files, folders and Registry keys in known, common locations, making it easier to evaluate uninstaller performance later.
We opted for a 32-bit test, saving files to a Program Files x86 folder, and creating Registry keys in both HKLM\Software and HKCU\Software.
We added a Windows Service, and a file association, as well as placing shortcuts in our Start Menu folder, and on the desktop.
Just to be difficult, we had our installer create a folder in \Users\Name\AppData\Roaming. This had a different folder name, but included the same files as the regular application folder -- would any of our test programs be smart enough to figure out that it might be related?
It was time to find out.
Geek Uninstaller 1.3.5.56
Free
3.5/5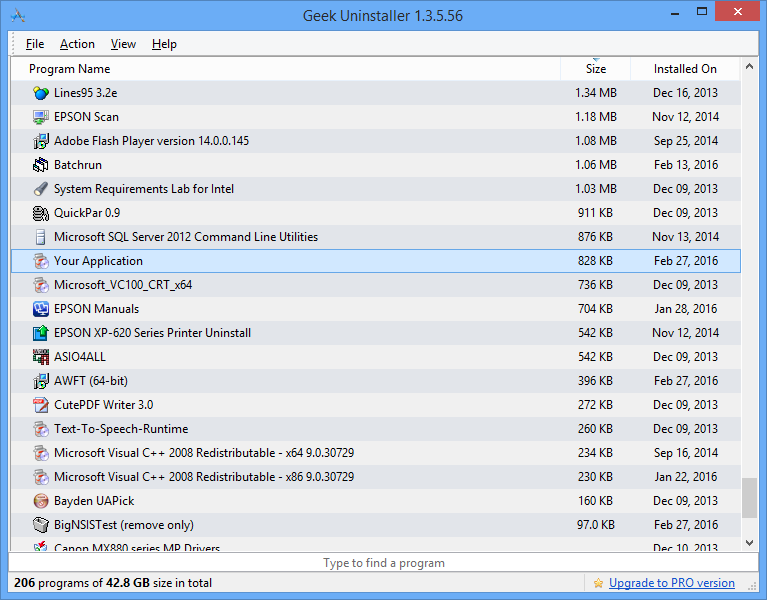 Geek Uninstaller is a compact package which doesn't need installation -- just download, unzip and run its single executable.
The opening screen is just as straightforward, a simple list of installed programs, their size and installation date. But right-clicking any application reveals some useful options, including web searches, the ability to open related Registry keys or Explorer folders, or remove the entry entirely.
We selected "Force Removal", and after a very few seconds (this program is fast) everything Geek Uninstaller wanted to delete was displayed in a tree, all checked by default.
The program found all the most obvious components: the main application folder, the Start Menu entry, the desktop shortcuts and the HKLM\Software and HKCU\Software folders.
Unlike most of the competition, It also found all the MSI-related installer keys. This meant that, when we ran our test installer again, post-cleaning it acted as though it was running for the first time.
But Geek Uninstaller missed the file association, and the Registry reference to our service, as well as the test app's \Users\Name\AppData\Roaming folder. (We tried the commercial version and that didn't do any better.)
Overall Geek Uninstaller proved to be a likable tool, and effective at removing hard drive junk, but there are more thorough uninstallers around.
Wise Program Uninstaller 1.91
Free
3/5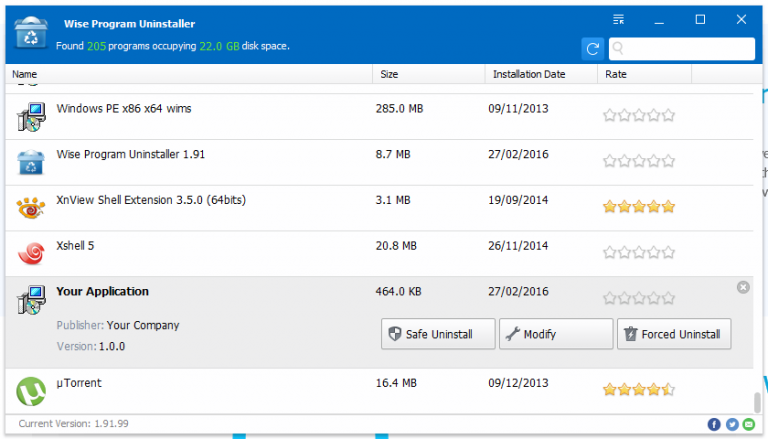 Wise Program Uninstaller got off to a bad start by not only requiring installation, but also offering to install SpyHunter, a third-party app, along the way.
Get past that and the program is more like any other uninstaller. Here's a list of installed programs, scroll to or search for the one you need, and launch a regular or forced uninstall.
The results dialog listed our main application folder, the Start Menu entry and desktop shortcut. It also found our HKLM\Software and HKCU\Software Registry keys, and the file association.
Missed items included our service, the associated Users\Name\AppData\Roaming folder, and, crucially, some of the installer Registry keys (when we ran our test setup later it thought it was still installed).
Wise Program Uninstaller will be good enough to remove many simple applications, but it doesn't have the depth to cope with more complex problems.
Advanced Uninstaller PRO 11.69.0.333
Free
4.5/5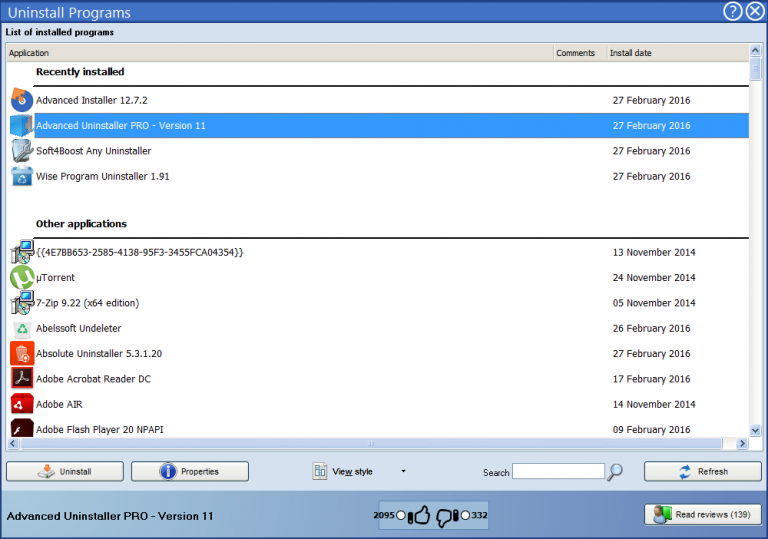 Advanced Uninstaller PRO is a powerful PC maintenance suite which does much more than uninstall software: there are Registry and disk cleaners, a browser manager, secure file deletion, Registry defrag and a whole lot more.
We were only interested in the "forced uninstall" option. This was easy to find and looked much like the competition, but scanning for disk and Registry leftovers took significantly longer, presumably because the program was trying to be very thorough.
The results were mostly worth the wait. Our test program's file association, service, main HKLM\Software and HKCU\Software keys were all listed, as were the main program folder, Start Menu entry, desktop shortcut, and even (impressively) a log entry in one of our other test uninstallers.
The program didn't find our Users\Name\AppData\Roaming folder, like everyone else, but the main issue is it didn't fully remove the test program's Windows installer entries, making it more difficult to reinstall it later.
Advanced Uninstaller PRO has a welcome bonus feature with install logging, the ability to record installation steps to more easily reverse them later. We didn't test this in depth -- and our quick look showed it could remove Registry keys unrelated to our app, causing problems of its own -- but it's still a worthwhile extra for people who know what they're doing.
IObit Uninstaller 5.2.5.126
Free
4/5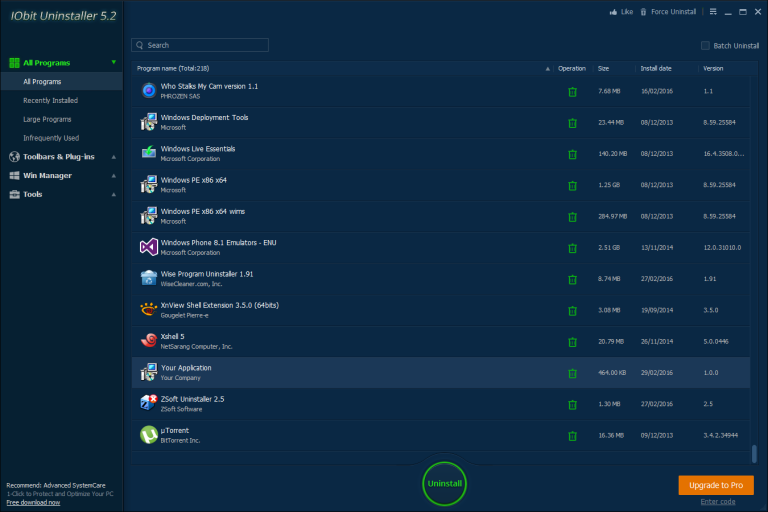 IObit Uninstaller opens with a lengthy list of your installed programs, various filters to help find what you need, and handy right-click options to open Explorer or REGEDIT at a program's location.
We were more interested in the "Force Uninstall" option, and conveniently this isn't restricted to items on the official "Installed" list: you can point the program at any executable and leave it to find related files.
IObit's "Powerful Scan" was one of the quickest in our tests, but still managed to identify all the important components: our Program Files folder, Start Menu entry, service, desktop shortcut, file association, and HKLM\Software and HKCU\Software Registry folders.
The program got bonus points for not selecting everything by default, making sure nothing is deleted unless it's "approved". And there's also a Shred option which securely wipes every file, ensuring it can't be deleted (seems like overkill to us, but it's there if you need it).
Misses included a failure to delete the Program Files folder (the contents were wiped, not the folder itself). The AppData folder was missed entirely, and IObit Uninstaller didn't quite wipe all the related MSI installer keys.
Still, we could live with all these issues, and overall IObit Uninstaller is a solid and reliable cleanup tool.
Uninstall Tool 3.4.4
$24.95
2.5/5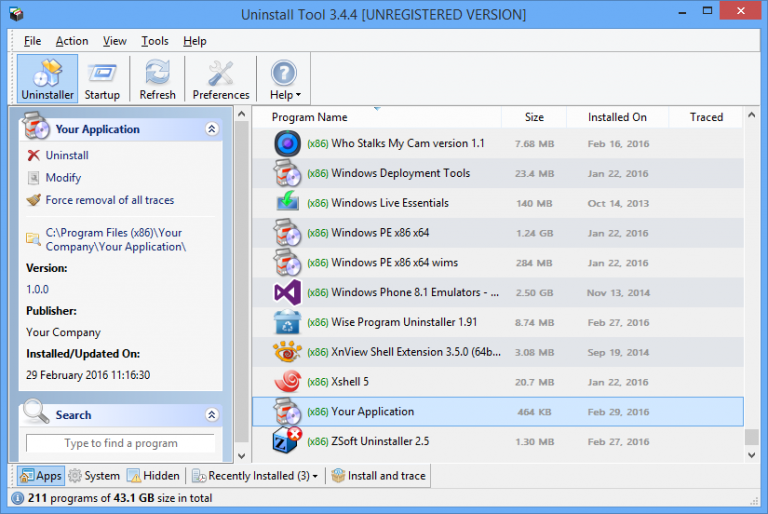 Uninstall Tool loads quickly, and displays a detailed view of your installed applications, which can be sorted, filtered and searched to find your target software.
A quick double-click launches the regular application uninstaller, or you can use Uninstall Tool's "forced scan" to search for related files and Registry keys.
Scanning was faster than most of the competition, quickly presenting its selection of files and folders in a simple tree.
Uninstall Tool had successfully found the main application folders and \Software Registry keys, and notably was one of the few to successfully remove all the Windows installer keys (we ran our test program again and could install it right away).
But, it didn't find our file association, or our service, which were probably more important.
Uninstall Tool is nicely presented and easy-to-use, but it also shows that you don't have to spend big money to clear up your system. Most of our freeware products delivered equivalent or better results.
Conclusion
There were no disasters among our test programs. They all located the most obvious of our test app components and removed them when asked, without ever falsely flagging something else.
But performance wasn't so impressive when it came to removing anything faintly more awkward.
Three of our five test programs failed to remove both the file association and Windows service, exactly the kind of item they should be looking for.
Most of the test programs were just as bad at cleaning up the Windows installer settings. This is less important -- run the removed installer again and it should recognize the remnants and offer you an Uninstall option -- but it's far from ideal.
No-one found our AppData folder. That's no great surprise as it had a different folder name to the main application, and would have taken more time and effort to detect. We still think it might have been possible, by looking for folders created within a few seconds of each other and examining their contents, but we didn't mark anyone down for missing it.
Overall, IObit Uninstaller earned a solid second place for its convenient interface, feature set, and because it removed both the Windows service and file association.
Advanced Uninstaller PRO just made it into the top spot, though, thanks to a more thorough (though slower) disk scanning process, optional install logging, and, again, successful cleanup of even the tricky Windows Service and file association records.
Factor in Advanced Uninstaller PRO's many other PC maintenance tools and it's a great free choice. Give it a try.