Acer Chromebook 14 has aluminum body, 14-inch screen, and up to 14 hours of battery life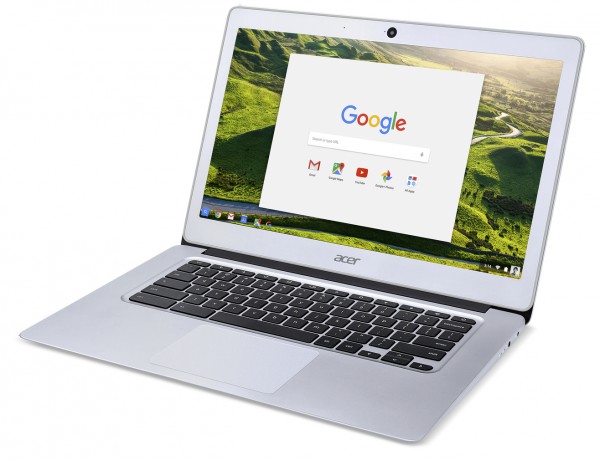 When it comes time to name a device, a marketing team usually gets involved. Many monikers are thrown about, often with a number designation that signals screen size, generation, or something else altogether. The Nexus 6 is based on screen size, iPad naming is sometimes based on generation, and the Xbox One -- well, who knows what Microsoft was thinking with its third console!
Today, Acer announces its newest Chrome OS laptop, the Chromebook 14. I know what you are thinking -- 14 inch screen, right? You would be correct -- that is the size of the display. While that is the obvious inspiration for the name, the number 14 is significant in another way too. You see, the Acer Chromebook 14 features up to 14 hours of battery life. While that is impressive, Acer has one more trick up its sleeve too.
"The Acer Chromebook 14 is the company's first with a large 14-inch display. The display is 20 percent larger than 11-inch models, so customers have extra screen real estate to enjoy additional tabs and websites, enjoy video and collaborate more comfortably. The display features IPS technology and comes in either a full HD (1920 x 1080) or HD (1366x768) resolutions, which both ensure clarity in text and graphics as well as wide viewing angles up to 170 degrees. The Acer Chromebook 14 reduces eye fatigue thanks to the display's ComfyView low-reflection and anti-glare properties", says Acer.
The company further explains, "The Acer Chromebook 14 is the first on the market to deliver up to 14 hours of battery life on models with the HD display; full HD models provide up to 12 hours of battery life. Business users, students and families will be confident using the system for day-to-night productivity and fun. The Acer Chromebook 14 is powered by an Intel Celeron quad-core or dual-core N3060 processor for solid performance and the ability to multi-task with ease through apps and online games. The Chromebook features either 4GB or 2GB dual channel LPDDR3 SDRAM".
This slideshow requires JavaScript.
Oh no, Acer -- why? A 2GB RAM option in 2016? Totally unacceptable. With this paltry amount of memory, the Chrome OS experience will likely be tainted by poor performance. The absolute minimum on these machines should be 4GB. RAM prices are rather inexpensive -- come on, now.
As I stated earlier, Acer has a trick up its sleeve, and that is an aluminum body. Acer's laptops are often budget-friendly, meaning plastic materials and slightly boring designs. With the Chromebook 14, this changes.
Remarkably even with the quality chassis material, the price for a model with great specs is only $299. The body is not the only premium thing. While storage is low at 16GB or 32GB, Wi-Fi is quite modern with 802.11ac and Bluetooth 4.2 -- high-end wireless standards.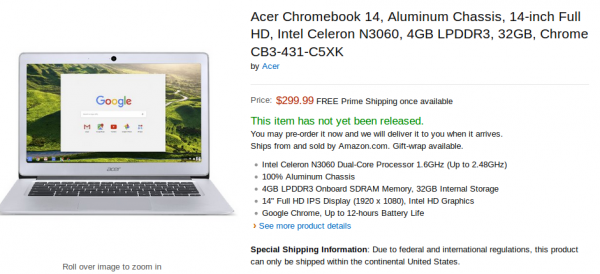 While it will not be available until April, if you act fast you can pre-order a very well-specced model from Amazon for $299 here. With 4GB of RAM, 32GB of storage and a 1080p display, I don't expect stock to last long -- reserve your spot now, folks.
Will you buy it? Tell me in the comments.