Google refuses to censor search results that identify PJS and YMA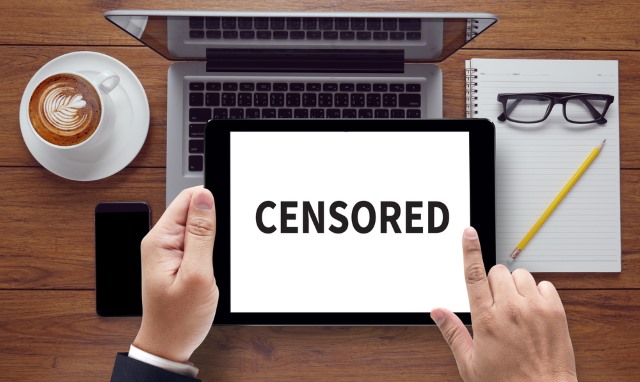 There's nothing like a good sex scandal to get people talking, and that's certainly what's happened in the case of a celebrity threesome that's currently subject to a superinjunction banning the involved parties from being named. While the identities of the couple cannot be revealed by British newspapers, their names are well-known in other parts of the world, and all over the web.
The British press has played ball, agreeing not to name YMA, his husband PJS and the two others, AB and CD with whom a threesome is supposed to have taken place but it is impossible for law enforcement agencies to control what appears online. Google has been the first port of call for many curious-minded people eager to learn the names of those involved, and the search giant has said that -- despite many requests to do so -- it will not censor search results that could lead people to the names.
Spend a little time on Twitter, Facebook, and numerous other websites and it won't be long before you learn -- if you don't already know -- the identities of the four people involved. Web Sheriff is not happy about this, and has requested that Google remove search results in a way that is reminiscent of the Right To Be Forgotten. As noted by Torrent Freak, Web Sheriff is usually associated with copyright-related takedown notices, but now also seeks to remove data that could harmful to reputations.
Google has been inundated with a huge number of removal requests from Web Sheriff -- 334 at time of writing. But Google has refused to take action in the vast majority of cases. As you can see from the table below, Google has complied with more requests in recent days, but it is still the case that the vast majority have resulted in no action.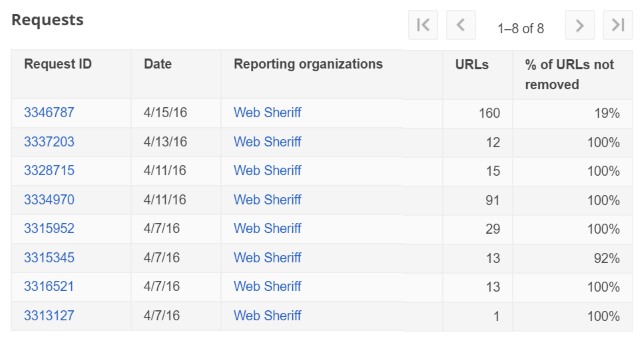 One of the primary reasons for this is that the superinjunction that prevents the naming of the four people involved in the case can only be applied in the UK -- and even then, not all of the UK, as indicated by a Scottish newspaper's decision to print the names.
Tomorrow, a court will decide the result of an appeal of the superinjunction. If it is decided that revealing the identities of PJS, YMA, AB and CD is in the public interest, all of the takedown requests will have been for nought anyway.
Photo credit: one photo / Shutterstock