Kyocera unveils $99 waterproof Hydro REACH Android phone for Boost Mobile and Virgin USA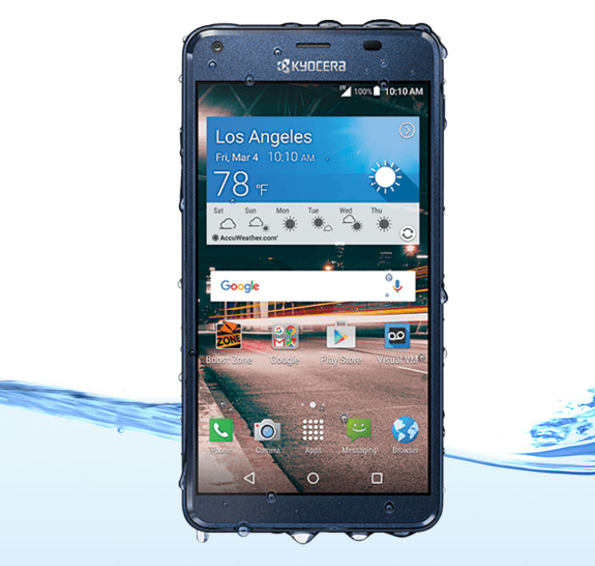 When buying a smartphone, there are many things to consider. Should you get Android or iOS? How much should you spend? Which carrier will you use? It can be very confusing.
If you are on a budget, however, Android is the best option -- Apple does not offer truly affordable off-contract phones. Choosing a value-focused, pre-paid carrier -- such as Boost Mobile or Virgin USA -- can be another way to save money. Today, Kyocera announces an affordable waterproof Android handset for those aforementioned carriers. Just how affordable is it? $99!
"The Hydro REACH features the Android 5.1 'Lollipop' operating system and comes ready with Google Mobile services including Google Play, Google Hangout, Gmail, and more. The phone also is equipped with a 5MP rear-facing camera capable of 720p video capture at 30fps, a 2MP front-facing camera, Stereo Bluetooth (4.1 + LE/EDR) wireless technology support, as well as voice recognition and hearing-aid compatibility. It includes a Qualcomm Snapdragon 1.1GHz Quad-core CPU, along with 8GB ROM/1GB RAM and a microSD memory card slot for additional memory. Hydro REACH has a long-lasting 2,160mAh Lithium ion (Li-ion) battery and includes Kyocera's Eco Mode and MaxiMZR applications for enhanced power management", says Kyocera.
This slideshow requires JavaScript.
Chuck Becher, vice president and general manager of sales and marketing at Kyocera Communications explains, "The Hydro REACH is the newest addition to our successful Hydro Series of waterproof phones and provides users with a rich smartphone experience without the price tag or worry that comes with more-expensive, less durable devices. Hydro REACH provides peace of mind when it comes to liquid exposure, one of the leading causes of smartphone failures. It's a great alternative to more expensive smartphones that can't keep up with people's active lifestyles".
The Hydro REACH is both IPX5 and IPX7 certtified, meaning it can be submerged in a meter of water for up to 30 minutes. This is rather impressive for such an inexpensive phone. The company even brags that the touchscreen will still function while submerged. Very cool.
If you are interested in purchasing the budget-friendly Hydro REACH, you can get it on Boost Mobile here or Virgin USA here.