ThinCharge is an excellent, lightweight battery case for iPhone 6/6s [Review]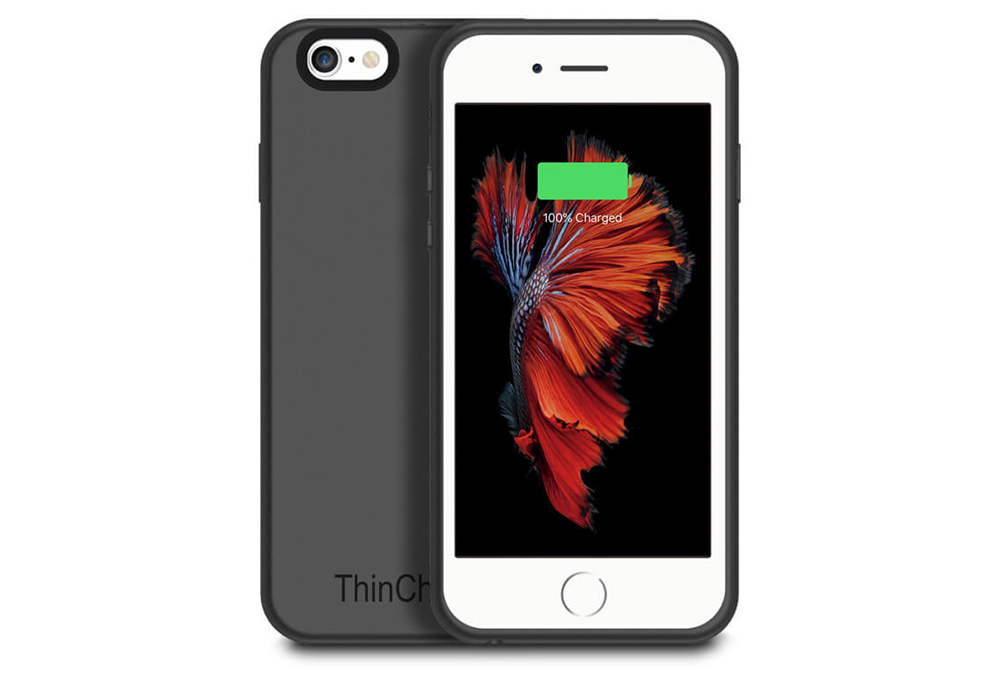 I love my iPhone 6s, but the battery life often isn't as good as I would like. On most days I can make it through to the late evening before the device requires charging, but occasionally it needs a bit of a boost before then. The Low Power mode built into iOS 9 comes in handy, but like most people I'd rather just have longer battery life.
While carrying around a power pack saves the day when I'm out and about and away from a charging point, it's a bit of pain having to lug it around. This is where ThinCharge comes in handy -- it's a battery pack built into a thin case.
Available for iPhone 6/6s, the case is described as "ultra thin and ultra lightweight" but it definitely adds a bit of heft to the phone when you first start using it. As time goes by however, you soon get used to the extra weight (which is just 73g) and I no longer even notice it. It doesn't add much thickness to your phone, just 4mm (the case itself is 11.5mm thick).
To use it, you just pull the top part off and slide your phone inside. There's a Lightning connector at the bottom which plugs into the port on your phone, and once it's secured in place, you push the upper cover back on.
The case has a Lightning port at the top that you use in place of the one on the iPhone. There are a couple of small issues with this, the first being that some stands and peripherals won't work properly because of the case's additional thickness. Also, the charging port protection -- a small plastic clip that snaps over the top -- fits so snugly that removing it can be challenging if you don't have long fingernails, or something like a paperclip to hand.
After spending far too many evenings struggling to flip this open, I've taken to removing the top of the case, which then causes the protection clip to fall open. It's not an ideal solution, but it works.
As you'd expect there's a cutout for the 3.5mm headphone socket at the bottom, and a cutout for the silence toggle on the side.
The case comes with a 2,600mAh battery which is enough to fully charge your phone. Starting it charging involves holding down the volume up button for at least three seconds. This has the side effect of also increasing the phone's volume to maximum, but you can always lower it again afterwards. To stop charging you repeat the process. It does of course stop charging once the phone is at 100 percent.
If you hold down the volume up button for a second or so, LEDs in the volume down button flash to show how much charge is remaining in the case.
When you connect your iPhone to the mains (using any standard Lightning cable) the device will charge first, followed by the case. It takes between three to six hours for both to charge fully, according to the manufacturers.
ThinCharge is a nice, rugged case that should protect your device from overheating, shocks, drops and scratches, and the integrated chipset lets the case monitor itself in order to optimize battery life.
If you want a case that can protect your phone and also keep it fully charged, then ThinCharge is definitely recommended. It's usually priced at $130, but is currently on sale for just $85.
You can buy it from Amazon or direct from ChargeTech.