Inateck BH1101 and BH1105 earphones [Review]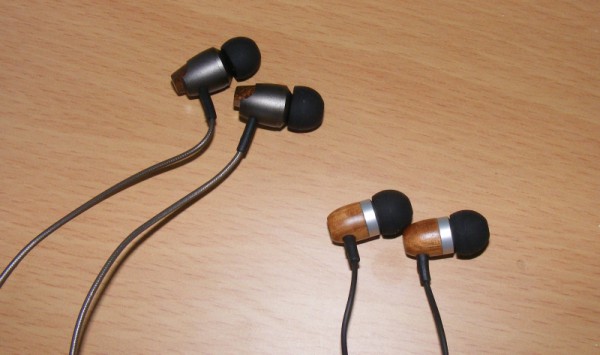 Over the past few years Inateck has made a name for itself with good value audio kit including headsets and Bluetooth speakers.
Its latest offerings are in the closely-contested earphone market, so how well do they measure up to more established players?
The BH1105 is the budget option and, a little unusually these days, just a set of headphones, there's no in-line mic to use with a smartphone. The design is a little different too, with the body of the phones being made of wood. Zebrawood to be precise -- if you thought zebras were made of meat you're correct, the wood gets its name from the strongly defined grain. You also get replacement silicone ear pieces in three different sizes to allow you to achieve a good fit. The jack plug is gold plated which is a nice quality touch.
The BH1101 'Aires' feels a bit more upmarket There's still some wood on display though the main casing is made of aluminum. You get a smart braided cable, an in-line microphone and a soft pouch to keep the earphones in when they're not in use. In addition you get a two-pin flight adaptor with dual mono connections. As with the BH1105s these come with replacement ear pieces in different sizes too and there's a gold-plated jack. The cable is a generous 1.3 metres so you can comfortably keep your device in a pocket or a backpack and still have freedom of movement.
The important thing with earphones of course is what the sound like. The BH1105s have well-defined bass, mid range and treble, they're lightweight and comfortable to wear. The BH1101s by contrast deliver a good, clear sound with a warm, natural tone but don't have quite so much bass as the cheaper phones. They do benefit from a noise isolating design which helps cut out background sounds. The mic may be tiny but it works well and doesn't pick up too much extraneous noise.
These are never going to compete with premium brands like Rock Jaw or Beats, but for everyday use they do a decent job. Overall, if you want to listen to music the cheaper BH1105s are the better choice. If you need earphones to use with a smartphone, however, the BH1101s are perfectly acceptable and won't disappoint in general use.
The BH1101 costs $15.99 from Amazon, £17.99 in the UK, The BH1105 is a relative bargain at $9.99 (£11.99 UK). Technical details can be found on the Inateck website.