Facebook Messenger for Android can now send SMS and MMS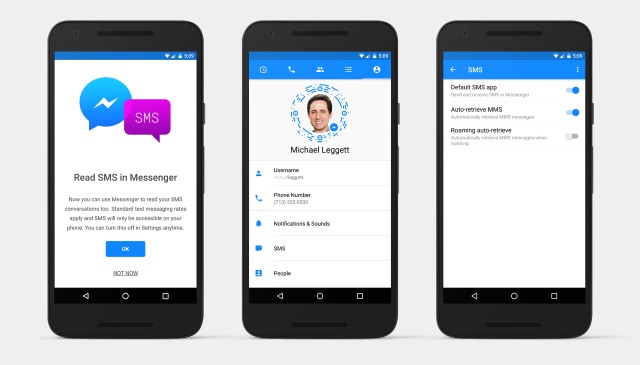 Facebook has upset a lot of people by effectively forcing its Messenger app onto people by removing the messaging option from the mobile website. Today, to help soften the blow a little, the social network announces that Android users will be able to use the app to not only chat with their Facebook friends, but also to send and receive SMS and MMS.
It's a feature that has been available in the beta version of Facebook Messenger for a little while, but now it is rolling out to everyone. While it will help keen chatters to reduce the number of apps they use, there is now yet another decision to make when it comes to texting -- stick with the default app on your phone, use Hangouts, use Facebook Messenger, or use one of the endless other messaging tools. If you opt for Facebook's offering, there are a couple of things you need to do.
Having upgraded to the latest version of the app, fire it up and hit the Settings button. Select the SMS option and then hit Default SMS app. That's all there is to it. While your Messenger chats and texts will be available within the same app, Facebook helps you to distinguish between the two by displaying SMS conversations in purple, and Messenger chats in blue.
Introducing the new feature, Facebook says:
We know that people receive messages via both SMS and Messenger -- for example your best friend sends you GIFs on Messenger whilst your mom only uses SMS -- we want to make it easier to stay in touch with all the people you care about. We hope that this new choice will bring the convenience of being able to access all your messages in one place, making your messaging a lot simpler and helping you stay on top of your conversations!
As this is Facebook, there will be understandable privacy concerns from users. Pre-empting this, Facebook says: "SMS in Messenger doesn't send, upload or store your conversations on Facebook servers. All messages are sent and received via SMS".
You'll just need to wait for the update to roll out to your handset or, if you don't yet have the app installed, you can grab is from Google Play.