Microsoft releases Starbucks for Outlook Add-in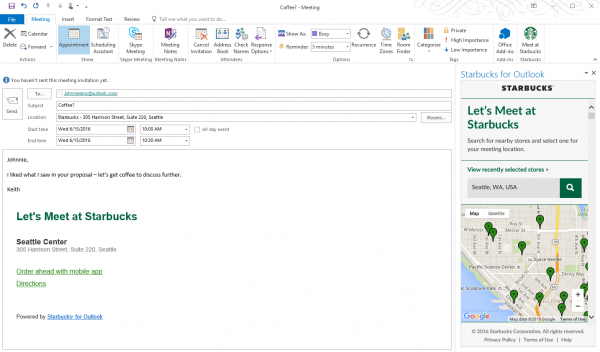 Do you ever see people working at Starbucks and think they are sort of pretentious? Understandably, seeing someone working in public is weird, but there is actually a lot of sense being made here. As someone who works in Starbucks almost every day (yeah, really), I can attest to the fact that it is a fabulous place for productivity. Obviously it has coffee and free Wi-Fi, which are the biggest pluses, but the overall atmosphere is conducive for work too. Since it can be a neutral meeting place, there is no awkwardness in ending a meeting and leaving -- it is very casual.
Today, Microsoft releases the Starbucks for Outlook Add-in. This is a marriage made in heaven, as coffee and Outlook are two of the most important things from a productivity perspective in many businesses. This add-in for Outlook lets you easily schedule a meeting at the famed coffee shop.
"In this fast paced, hyper-connected world, where meetings are often conducted remotely or in a formal office setting, we sometimes lose a personal connection which is so important in building a great business relationship. Outlook now makes it easier for you to have that personal connection by enabling you to meet your customers, business partners or study group at your favorite Starbucks location, all with a few clicks from your Outlook inbox. Simply click the 'Meet at Starbucks' command from the ribbon when creating a new meeting request, search for your favorite Starbucks store, and add it as the location of your upcoming meeting", says The Outlook Team.
Not only can you set up meeting at Starbucks, but you can send e-gift cards using the add-in too. Not sure why a business person would want to do that? There are a couple reasons actually. Client-facing employees could use the gift card for relationship building -- especially in sales. Also, a manager could use it as a thank-you for direct reports that meet goals. It can work in any situation where you want to make a lasting impression. I mean, who in business doesn't love coffee or tea?
The Outlook Team shares the following instructions for setting up the add-in.
If you are using Office 365 or the new Outlook.com, simply click on https://aka.ms/getcoffee to begin installation of the Starbucks for Outlook add-in. If you are using Exchange 2016 or Exchange 2013 on premise, please follow the steps below to install the add-in:

In Outlook 2013 or Outlook 2016, click Store from the Home tab on the ribbon. In Outlook on the web click the gear icon (top right) and select Manage Add-ins.
Type in "Starbucks" in the search bar on the top right.
The search will return the "Starbucks for Outlook" add-in, then set the toggle to "on" to install the add-in.
The add-in will appear in the command bar ribbon on the top.

Note: Some users in Outlook 2013 may not see the new in-client store UI above. For these users, follow the steps below:

Click Store from the Home tab on the ribbon-> click Manage Add-ins.
In the Manage Add-ins page, click the + sign and then select the "Starbucks for Outlook" add-in from the Office Store.
Click the "Add" button to begin installation.
Unfortunately, this a Web and Windows-only add-in. If you are using Outlook for Mac, Android, or iOS, you are out of luck -- for now. Microsoft shares that it is working on versions for those platforms too, although there is no definitive date.
Do you ever do work or have meeting in Starbucks or similar coffee shop? Tell me in the comments.