ADATA announces Premier SP550 M.2 2280 SATA SSD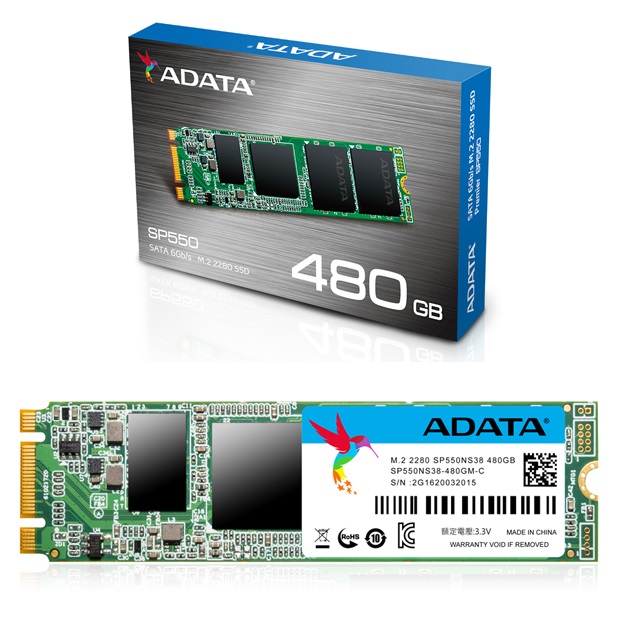 While 2.5 inch SSDs were once viewed as cutting edge technology, they are now seen as being old and bulky. Instead, M.2 variants are all the rage. The slim design makes them ideal for Ultrabooks, as it can contribute to an overall lighter and thinner machine. Heck, M.2 is great on desktops too, as more and more motherboards come with the needed slot.
Not all M.2 drives are created equally, however. You see, there are models that use SATA and others that use PCIe NVMe. While the latter is faster, it is also more expensive. Not to mention, not every machine has NVMe compatibility. Today, ADATA announces an SATA M.2 SSD, called the Premier SP550 2280.
"While the Premier SP550 M.2 2280 measures just 22x80x3.5mm, it is available in up to 480GB and upgrades slim laptops and ultrabooks without compromising performance. Its maximum read/write speeds are 560/510MB per second, with 4K random read at up to 75K IOPS thanks to a high quality SMI controller and SLC caching technology. The latter allows the Premier SP550 M.2 2280 to operate in simulated SLC (single-level cell) mode for a performance boost. DRAM cache buffer functionality (where the SSD uses system RAM as a temporary, ultra-fast cache) also enhances read/write performance by as much as double that of solid state drives that lack a DRAM cache", says ADATA.
The company further says, "to improve SSD stability and data integrity, the Premier SP550 M.2 2280 is equipped with RAID engine and data shaping technologies, attaining extended lifespan for better, longer-lasting stability and return on investment. It also supports LDPC (low density parity check) error correction technology to reduce data errors, increase data integrity, and improve transfer quality. Furthermore, DEVSLP (device sleep) mode reduces power consumption and prolongs battery lifespan, an excellent feature for laptop users that want extended usability and portability".
This slideshow requires JavaScript.
ADATA shares some specs below.
| | |
| --- | --- |
| Capacity | 120GB / 240GB / 480GB |
| Form Factor | M.2 2280 |
| NAND Flash | TLC |
| Controller | SMI |
| Dimensions (L x W x H) | 22 x 80 x 3.5mm |
| Weight | 8g / 0.28oz |
| Interface | SATA 6Gb/s |
| Performance | 560 / 510MB/sMaximum 4K random read IOPS: 75K |
| Operating temperature | 0 °C - 70°C |
| Storage temperature | -40 °C - 85°C |
| Shock resistance | 1500G |
| MTBF | 1,500,000 Hours |
In order for this drive to be a success, it must be priced right. Unfortunately, ADATA has not revealed pricing for the Premier SP550 M.2 2280 SATA SSD. With that said, the company usually delivers both quality and value, so I expect it to be reasonable.
If you are interested in buying it in either 120GB, 240GB, or 480GB, the drive will be available at the usual retailers, such as Newegg and Amazon, very soon. Cost will be known then.