Barnes and Noble 7-inch Samsung Galaxy Tab A NOOK Android tablet is a great value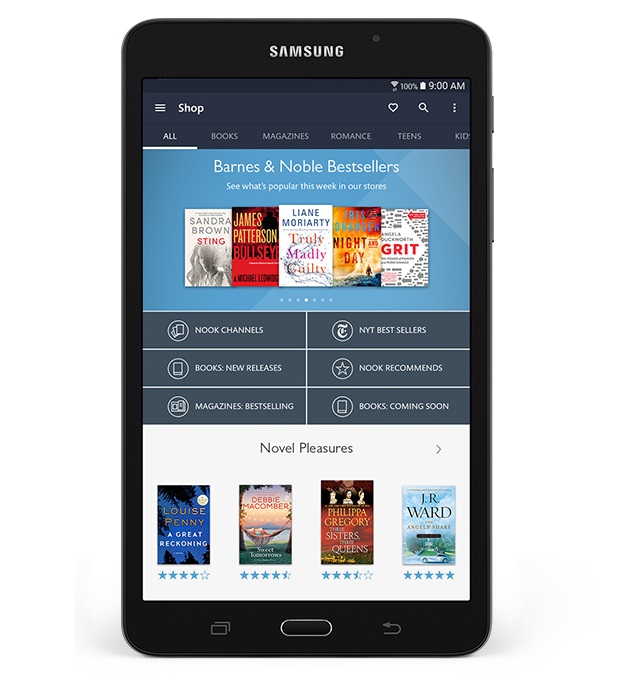 Barnes and Noble's color-screen NOOK tablets are really just repurposed Samsung Android devices. You know what? That is totally fine. Heck, B and N doesn't even try to hide it. While the company could go the route of Amazon and produce its own hardware and operating system, many consumers don't really want that. Without the Google Play Store, an Android tablet is largely a big disappointment.
Today, Barnes and Noble announces the latest such NOOK Android tablet, which is based on the 7-inch Samsung Galaxy Tab A. While not a top of the line tablet by any means, it is affordable, and overall, a damn good value. Existing NOOK tablet owners can even get a substantial discount when upgrading.
"The Galaxy Tab A NOOK is the next-generation reader's tablet designed with the NOOK experience readers love and the latest tablet features they need, including a 2-megapixel front-facing camera, GPS and an integrated FM tuner for radio (no Wi-Fi required) that makes tuning into local FM radio easier than ever before. The Galaxy Tab A NOOK gives users access to all the best Android apps, and is equipped with the most advanced technology so that they can enjoy fast downloads, smooth web browsing, crisp text and vivid images. The Tab A runs Lollipop (Android 5.1) and has access to the Google Play store", says Barnes and Noble.
The book-seller further says, "the Galaxy Tab A NOOK offers users an enhanced digital bookstore experience, integrated with the latest NOOK software (version 4.6) and BN.com bookmarked directly onto the home screen of the device so that they have quick and easy access to Barnes and Noble's vast product offering. Plus, the Galaxy Tab A NOOK enables the expansion of storage space from 8GB to an additional 200GB via a microSD card (sold separately), including the ability to download certain NOOK Books directly to the microSD card".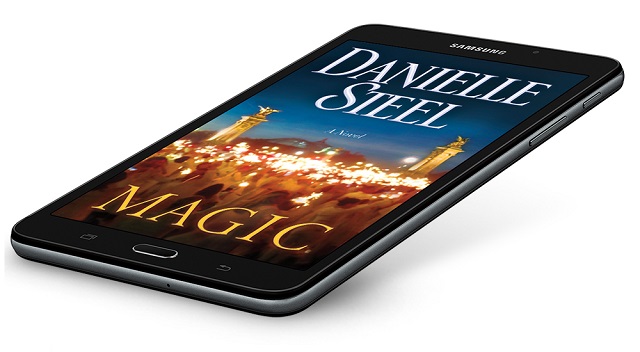 Barnes and Noble shares the following features and benefits of owning the NOOK version of Samsung's tablet.
Over 4 million books including bestsellers, new releases, classics and enhanced titles with special content, including more than 1 million titles priced under $5.
Nearly 80,000 digital audiobooks, including 9,500 free titles (coming in September)
An extensive collection of popular comic books and graphic novels, as well as picture-perfect art, photography, travel guides and cookbook titles.
An expansive digital selection of best-loved children's books -- over 110,000 -- including chapter books and a selection of more than 11,000 interactive picture books.
The NOOK Newsstand, with the largest digital collection of the top 100 bestselling U.S. magazines available for both digital subscriptions and single copy sale, and a vast collection of newspapers and magazines from around the world. Reading tools like
ArticleView lets the reader focus on the text, customized to their needs, and the Visual Table of Contents provides a quick scan of the entire issue, allowing readers to jump directly to any article or section.
My favorite feature of this NOOK tablet -- besides the expandable storage and 11-hour battery life -- is the lifetime in-store support. Readers of BetaNews are probably quite tech savvy and won't need the in-person help. With that said, when giving one as a gift, it gets you off the hook from serving as tech support. You can direct friends and family to the brick-and-mortar Barnes and Noble store. Believe it or not, there are over 600 locations in the USA!
So how much does it cost? Surprisingly, it is only $139.99. If you are an existing NOOK tablet owner, you can get it for the special price of $99.99. Sweetening the pot even more, for a limited time, folks getting the special upgrade price will also get a $39.95 protection cover for free. Wow. That is a lot of value for less than $100! You can't go wrong...
Will you buy the good-looking Barnes and Noble 7-inch Samsung Galaxy Tab A NOOK Android tablet? Tell me in the comments.