'Subway Reads' gives NYC straphangers free e-book shorts and excerpts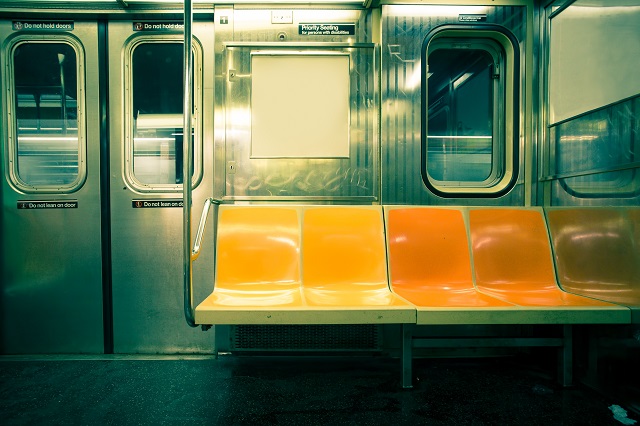 Have you ever been on an NYC subway? If not, let me tell you -- it is often horrible. Air conditioning can be broken, leading to high temperatures. Even worse, some people bring their food below ground, resulting in a stinky train car -- yuck! Don't even get me started on the performers -- people will sing or do acrobatics and then demand money. Heck, just last week a woman released live crickets on the subway!
Luckily, the NYC subway experience is getting better thanks to one thing -- Wi-Fi. Today, Andrew M. Cuomo, Governor of New York announces a new promotion, called "Subway Reads", which leverages that connectivity. This initiative will help straphangers get some relief from the other nonsense by enabling them to bury themselves in a free Penguin Random House e-book short or excerpt.
"As part of 'Subway Reads', Penguin Random House created a special platform to offer subway customers free access to five full length e-shorts, including High Heat, a Jack Reacher novella by Lee Child; F. Scott Fitzgerald's classic short story, The Diamond As Big As The Ritz; 3 Truths and A Lie, a short story by Lisa Gardner; The Murders in the Rue Morgue by Edgar Allan Poe; and At the Reunion Buffet by Alexander McCall Smith", says the New York State Government.
In addition to the e-shorts, subway riders can also enjoy book excerpts. This is ideal, as subway ride times aren't very long -- a full length book is not possible between stops. With that said, readers can then easily purchase the full version if the excerpt sucks them in. Yes, this can help Penguin Random House get sales, but who can argue with a promotion that gets people reading books rather than play games on their smartphone? It is win/win.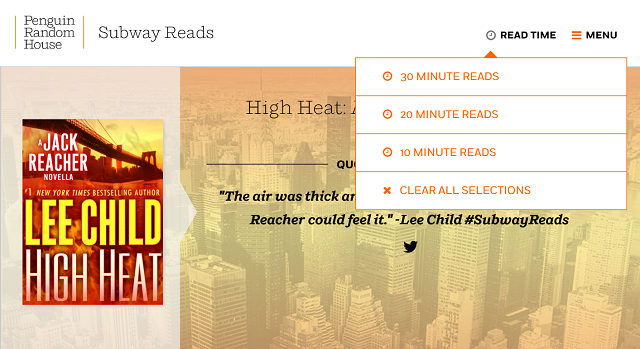 But how do you know that your selection can be read in the amount of time you will be on the subway? New York State explains, "in order to optimize the reading experience for commuters, Penguin Random House also has created a special feature for the book excerpts called 'read time' that enables customers to sort the short stories and samples by the amount of time it would take the average reader to complete them. A commuter who expects to spend half an hour on the train could, for example, click '30 minutes' on the Penguin Random House page, and be given a list of stories or samples that would take that long to read".
If you are an NYC subway rider that wants to try this out, you can check it out here. Which free selection will you read first? Tell me in the comments.
Photo Credit: littleny/Shutterstock