Samsung is handling the Galaxy Note7 recall differently in the US and UK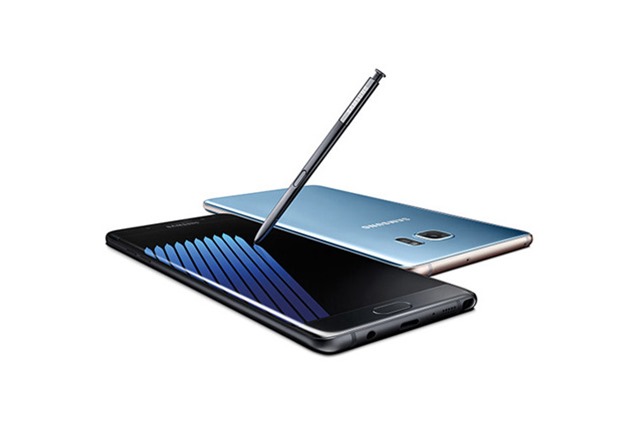 The launch of the Galaxy Note7 has been nothing short of an unmitigated disaster for Samsung. Following reports of exploding batteries, the company announced a recall of the flagship handset which was criticized by many as not being urgent enough, and is expected to cost millions of dollars.
Sales and shipments of Galaxy Note7s have been stopped around the world, and Samsung has said that once safe handsets are ready, they will be identifiable because of a blue S sticker. The immediate advice is to "power down your device", but the recall is being handled differently around the world. In the UK, customers have been told to return them at the "earliest opportunity", while in the US Samsung says "we strongly advise that you replace it" -- and throws in a $25 gift card to sweeten the deal.
US Galaxy Note7 owners have been presented with a couple of options: return the phones and receive a loaner until a replacement is available, or switch to a Galaxy S7 or Galaxy S7 edge and get the difference back. In either case, customers are given a $25 gift card or credit for the "inconvenience". Writing about the exchange program on its US website, Samsung says:
In response to our recent announcement regarding battery cell issues with the Galaxy Note7, we are advising that you power down your Note7 and exchange it now, as part of our US Product Exchange Program for all Galaxy Note7 owners. We strongly advise all customers to use this exchange program because your safety is our top priority. Additional sales and shipments of the affected devices have been stopped, but if you already have a Galaxy Note7, we strongly advise that you replace it.
Customers are advised:
Galaxy Note7 owners should contact or visit the retail outlet where they purchased their device. If you bought your Note7 from Samsung.com, you should contact us at 1-800-SAMSUNG and we can help you. If you have any questions or concerns, contact us directly at 1-800-SAMSUNG.
In the UK, the company says that it has "conducted a thorough investigation and found an isolated battery cell issue". The recall is being handled differently, and UK customers are being given a timescale not shared with US customers:
For customers who already have Galaxy Note7 devices, we now ask that you power down your device and return to using your previous phone. We will voluntarily replace your Galaxy Note7 device with a new one, beginning on September 19th. For more details on what to do next please see below.

We acknowledge the inconvenience this may cause in the market but this is to ensure that Samsung continues to deliver the highest quality products to our customers. We are working closely with our partners to ensure the replacement experience is as convenient and efficient as possible.
The UK exchange program works like this:
For UK customers who have Galaxy Note7 devices, Samsung in collaboration with its partners and operators, will voluntarily replace their current device with a new one.

UK customers will be contacted by the provider or operator from which they purchased the product in order to arrange their device exchange.

Until a replacement device is provided, Samsung asks all customers with a Galaxy Note7 smartphone to power down your device and return it to its place of purchase at your earliest opportunity.

If you have pre-ordered your Galaxy Note7 and you are waiting for delivery: we apologise that you have not received your new Galaxy Note7 yet. We will have a new Galaxy Note7 on the way to you as soon as possible.

Customers with Galaxy Note7 service related questions can contact the Samsung customer service team on 0330 7261000.
The US Consumer Product Safety Commission has also issued a statement about the problematic phones:
Lithium-ion batteries pack a lot of power into a small package. When these batteries overheat and burst, the results can be serious. This is why the U.S Consumer Product Safety Commission (CPSC) is urging all consumers who own a Samsung Galaxy Note7 to power them down and stop charging or using the device.

This consumer warning is based on recent reports involving lithium-ion batteries in certain Note7 devices that have resulted in fires. These incidents have occurred while charging and during normal use, which has led us to call for consumers to power down their Note7s.

CPSC and Samsung are working cooperatively to formally announce an official recall of the devices, as soon as possible. CPSC is working quickly to determine whether a replacement Galaxy Note7 is an acceptable remedy for Samsung or their phone carriers to provide to consumers.