Amazon Prime members get free audio books and access to 'Audible Channels'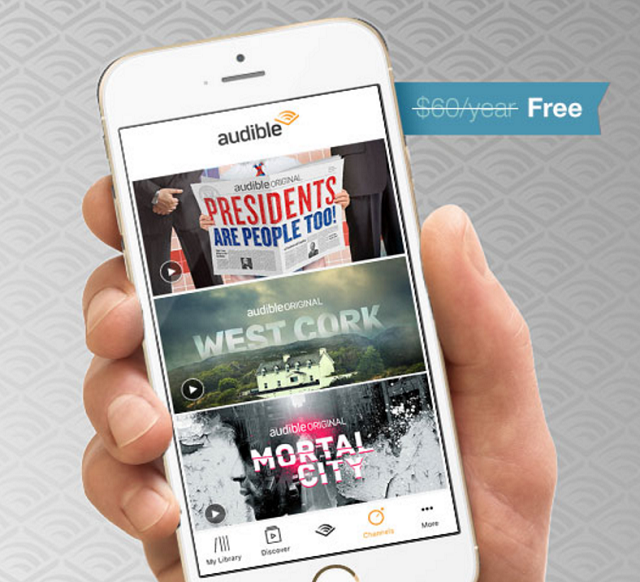 As someone on the go, I have always craved the ability to listen to audio books in my car. Whenever I research getting them, however, the high prices always scare me away. Look, I understand a lot of time and effort goes into creating versions of books that are read aloud, but with current pricing, it is simply not reasonable for an average person to truly take advantage.
Today, this changes as Amazon delivers audio-focused benefits to members of its Prime service. Users can now access 50 audio books for free, meaning consuming them is an affordable reality. In addition, Prime members are getting free access to the company's 'Audible Channels'.
"Amazon and Audible today announced a new premium spoken-word benefit for Prime members in the U.S. Members now enjoy unlimited free access to the new short-form digital audio service, Audible Channels, as well as a rotating selection of more than 50 audiobooks from Audible's catalog. Audible Channels for Prime now joins the growing list of all-you-can-eat benefits for Prime members including guaranteed unlimited fast, free shipping, unlimited access to Prime Video, Prime Music, Prime Photos, early access to Lightning Deals and more", says Amazon.
Greg Greeley, Vice President, Prime explains, "as a longtime Audible member, I cannot wait for Prime members to discover this new premium spoken-word experience -- for free. Tens of millions of members in the U.S. already enjoy the many benefits of Prime including unlimited fast, free Prime shipping, Prime Video, Prime Music, Prime Photos, and exclusive products and discounts. Prime provides a one-of-a-kind digital-physical hybrid benefit experience and now members can add Audible Channels and audiobooks to their daily habits".
While Greeley's positive opinion is obviously biased, I have to agree with his sentiment. For the money, there is no better value in entertainment than Amazon Prime. If you also shop there regularly, the free two-day shipping is simply icing on the cake.
The addition of free audio books makes Prime even more valuable. Amazon shares some of the free selections below. Keep in mind, the company will regularly rotate them -- you aren't forever limited to the initial offered titles.
Top-rated audiobooks across a range of genres, such as Mary Kubica's The Good Girl, Karl Marlantes' What It Is Like to Go to War, Matthew Quick's The Silver Linings Playbook, Anne Lamott's Stitches and Orson Scott Card's Ender's Game Alive
Celebrity-narrated classics, such as Scarlett Johansson's performance of Alice's Adventures in Wonderland, Rosamund Pike's narration of Pride and Prejudice, and a full-cast recording of Dracula, starring Alan Cumming
Shared listening experiences for the family, including Clifford the Big Red Dog, Winnie-the-Pooh, and The Velveteen Rabbit
The 'Audible Channels' feature is arguably less exciting, but useful still. For instance, it will provide spoken articles from two of the world's best news services -- The New York Times and The Wall Street Journal (plus other publications too). There will be genres other than news, of course, such as comedy and science. This service would normally cost you $60 per year, but is free with Prime when using the app on iOS, Android, and Windows 10. Awesome.
Are you excited for this added Amazon Prime benefit? Tell me in the comments.