Samsung releases Galaxy TabPro S Gold Edition 2-in-1 Windows 10 tablet/laptop PC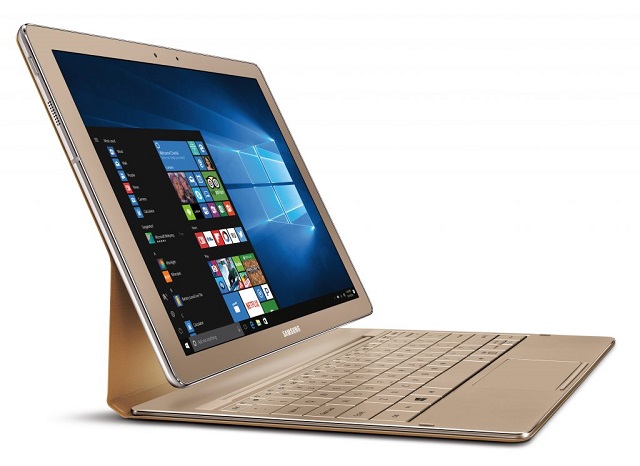 Windows 10 is a great desktop operating system. It also works wonderfully on tablets. That is what makes Microsoft's OS so attractive -- versatility. It still doesn't scale very well on smartphones, but I digress.
Whether you are a home user, college student, or professional, a 2-in-1 Windows 10 device can be a really rewarding experience. Not only does it save you money by not needing to buy both a laptop and a tablet, but it is one less thing to carry too. Today, Samsung releases the Galaxy TabPro S Gold Edition 2-in-1 Windows 10 tablet/laptop hybrid. The gold-colored PC features an impressive AMOLED screen and other great specifications. Unlike the Surface devices, the keyboard case is included -- nice! Best of all? It costs less than $1,000.
"The Galaxy TabPro S Gold Edition delivers a wealth of productivity features available through the Windows 10 operating system, resulting in one of the most advanced 2-in-1 experiences on the market. With 8GB of RAM and a 256GB Solid State Drive (double the memory and storage of the previous model), consumers are able to work more efficiently, store more and enjoy their favorite content no matter where they are", says Samsung.
The company further shares, "this 2-in-1 incorporates advanced technology to maximize performance and power efficiency. With enhanced fast charging features, the Samsung Galaxy TabPro S's battery can fully charge in as little as 2.5 hours, and offers up to 10.5 hours of battery life on a single charge. For power-driven performance, the Galaxy TabPro S is equipped with a 6th generation Intel Core M processor, designed for a fanless 2-in-1 to deliver the slimmest profile".
Samsung shares the following specifications.
Model
SM-W700NZDBXAR
Display
12 inch Super AMOLED Full HD+: 2160 × 1440 Resolution
Processor
Intel Core M3 Processor 2.2 GHz
OS
Windows 10 Home
Connectivity
Wi-Fi (802.11 a/b/g/n/ac 2.4G+5GHz, VHT80 MIMO), Bluetooth v4.1, USB C 3.1
Camera
Front: 5MP/Rear: 5MP with Auto Focus
4× Digital Zoom, 1920×1080 Full HD Video Recording
Memory/Storage
8GB RAM/ 256GB Solid State Drive
Battery
5200mAh/ 10.5 hours of video play time
Weight
1.53 pounds (without keyboard)
Dimension
11.43 inch x 7.83 inch x 0.25 inch (without keyboard)
Colors
Gold
Price
$999.99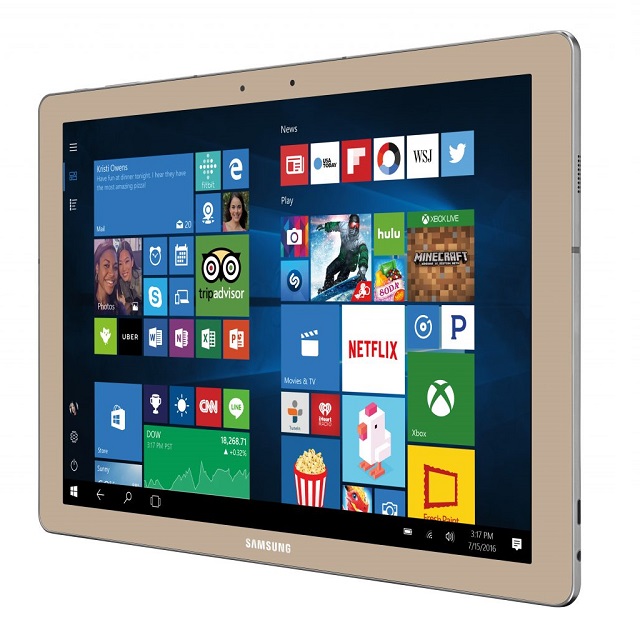 All of the hardware specifications are quite good, with the exception of the processor (arguably). Intel's M3 chip is quite capable, but hardly a powerhouse; if you do CPU-intensive tasks like video-editing, this would not be a good choice. Also, because this has Windows 10 Home and not Pro, you cannot leverage BitLocker.
On the bright side, however, unlike a Core processor, this is fanless, meaning it is silent. For typical tasks like word processing, web browsing, and consuming media, this PC should be quite brilliant. You can do all of these things without hearing an annoying fan 'whir' sound.
If you are interested in buying it, it can be had today for $999.99 from Samsung directly or from BestBuy. An optional USB-C multi-port dock ($89.99) and stylus ($79.99) can be purchased too. Will you buy this PC? Tell me in the comments.