Acer updates Chromebook 15 with 12-hour battery life -- $199 exclusively at Walmart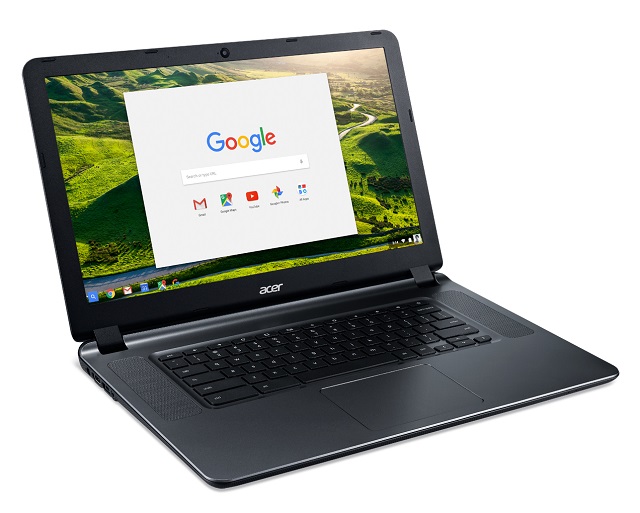 Chromebooks are not for everyone, but for many home users, it is absolute perfection. If you live in the web browser -- as many people do nowadays -- laptops running Google's Linux-based Chrome OS are a godsend because they are maintenance free. No need for confusing OS upgrades or anti-virus software. It just works, and it works well. Since they can now run Android apps too, they could become a serious threat to Microsoft and Windows 10.
One of the most attractive aspects of Chromebooks is price -- they are often quite affordable. Today, Acer refreshes its 15.6 inch Chromebook 15 with a mind-boggling 12 hours of battery life. Best of all? It starts at $199. Yes, this model will get Android app support in a future update too.
"Today Acer updates its award-winning Chromebook 15 lineup with new models that include a large 15.6-inch display, now at an even more affordable starting price of only $199. In addition to providing a large HD display, the new model Acer Chromebook 15 (CB3-532) delivers up to 12 hours of battery life for fun and productivity that lasts beyond work and school into the evening. The Chromebook 15 (CB3-532) is slated to provide additional capabilities thanks to planned support for Android apps via the Google Play Store", says Acer.
The company further shares, "Chromebook 15 keeps customers in touch with up to three times faster wireless connectivity with 802.11ac WiFi featuring MIMO 2x2 technology (dual band 2.4GHz and 5GHz). Also, customers can connect other peripherals to it via Bluetooth 4.2, two USB 3.0 ports, and an HDMI port. The SD card reader supports up to 128GB SDXC for transferring and saving files. The Chromebook 15 has been reinforced to handle more bumps and drops; the case can withstand up to 132 pounds (60kg) of force, while the corners can tolerate up to 23.6 inch (60 cm) drops without damage".
This slideshow requires JavaScript.
Acer shares the following specifications.
Processor: Intel Celeron Dual-Core Processor N3060 (1.6GHz, 2MB L2 Cache)
OS: Google Chrome
Display: 15.6 inch HD 1366 x 768 resolution, LED-backlit display, 16:9 aspect ratio
Memory: 2GB of LPDDR3 SDRAM
Video: Integrated Intel HD Graphics 400
Audio: High-Definition Audio Support; Upward-Facing Dual-Stereo Speakers; Built-In Digital Microphone
Storage: 16GB eMMC
Digital Media Card Reader: Secure Digital (SD) card reader, supports up to 128GB SDXC
Communications: 802.11ac Wireless featuring 2x2 MIMO Technology (Dual-Band 2.4GHz and 5GHz);
Bluetooth 4.2
Webcam: HD Webcam (1280x720) Supports High Dynamic Range
Input and Output
2 – USB 3.0 Ports
1 – HDMI port with HDCP Support
1 –Headphone/Speaker Jack
1 – DC–in Jack for AC Adapter
Touchpad: Fully clickable touchpad featuring click-anywhere functionality
Battery Life: Up to 12 Hours
Battery Type: 3-Cell Li-polymer Battery (3950 mAh)
Dimensions: 15.08 (W) x 10.08 (D) x 0.95 (H) Inches
Weight: 4.3 lbs
Warranty: One Year International Limited Warranty
While the overall package looks good for $199, there are some concerns. Yes, the 15.6 inch screen is big and roomy, but the 1366x768 resolution is rather poor for that screen size -- I would prefer to see 1080p. Also, while the Intel Celeron N3060 processor is passable, the paltry 2GB of RAM is not. If you tend to open many tabs in your web browser, this machine may prove to be deficient.
Unless your budget is a hard $199, it would be wise to spend more money and target a minimum of 4GB of RAM for a truly satisfying experience. Acer, for instance, sells other Chromebook 15 models with better screens and increased RAM for not too much more.
If you do want to buy this laptop, it is available staring today. It is being sold exclusively at Walmart, so you can head to your local store to check it out immediately.