Samsung 'ArtPC Pulse' is a cylindrical Windows 10 desktop with AMD RX460 GPU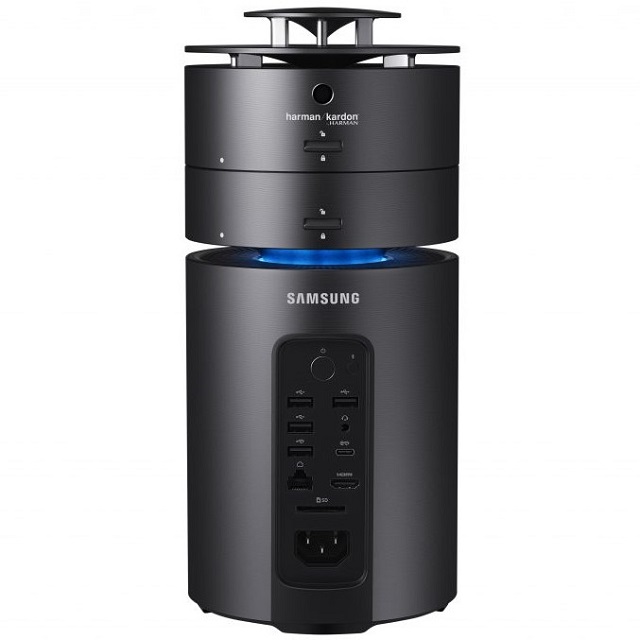 When Apple released its cylindrical Mac Pro, I was in awe. Not only was it beautiful, but it wasn't form over function. Actually, a cylinder is a wise design choice, as it can aid in cooling when done correctly. Surprisingly, Windows PC manufacturers took a while to start really embracing the design.
Recently, for instance, HP announced the Wave -- a tube-like PC with integrated 360 degree Bang and Olufsen speaker. Now, Samsung is following HP with the ArtPC Pulse. It too features a 360 degree speaker in its design, but by the arguably superior Harman/Kardon. Where Samsung's offering greatly differs, however, is gaming. It has a respectable AMD RX460 GPU. As you can imagine, the drop-dead gorgeous ArtPC Pulse will not come cheap.
"The ArtPC Pulse's circular, full metal body design houses high performance internal components in an elegant, compact (5.5 inches wide and around a foot tall) form factor. It has a 6th generation Intel Core i5 or i7 processor, AMD Radeon RX460 GPU, up to 16GB of memory and a 1 HDD module, plus 256GB SSD for faster load times and performance. ArtPC Pulse meets users' needs to accomplish everything on their plates, as well as stay entertained, with support for demanding multimedia including 3D games and 4K movies", says Samsung.
ALSO READ: [Giveaway] Win a Toshiba Windows 10 convertible 2-in-1 laptop
This slideshow requires JavaScript.
The famed manufacturer further says, "the PC has an ambient pulse lighting band embedded within the circular design, seamlessly adding both style and function. For easy updates from anywhere in the room, the band can be customized to provide Smart Notifications via subtle, attractive lighting changes. For example, users can set the ArtPC Pulse to blink yellow when they have a new email, blue for a social media notification, green for a new chat message and more. Additionally, the customizable Hourly Chime function ensures users never lose track of time by giving them an option to set visual or audio alarms".
Samsung shares the following specifications. Unfortunately, it does not come with the latest and greatest 7th gen 'Kaby Lake' processors. The 6th gen Skylake chips are still very good, however.

The price difference between the Core i5 ($1,199) and Core i7 ($1,599) models is significant at $400. With that said, you would be crazy not to spend the extra money. Better processor aside, you also get double the RAM and a USB 1TB HDD module that matches the design. If you are going to splurge on a fancy PC such as this, you might as well go all the way, right?
If you are interested in buying the Samsung ArtPC Pulse, you can pre-order it immediately at Amazon here. It will begin shipping on October 28, 2016.