Prior to Apple 'Hello Again' Mac event, Satechi unveils Slim Aluminum Wireless Keypad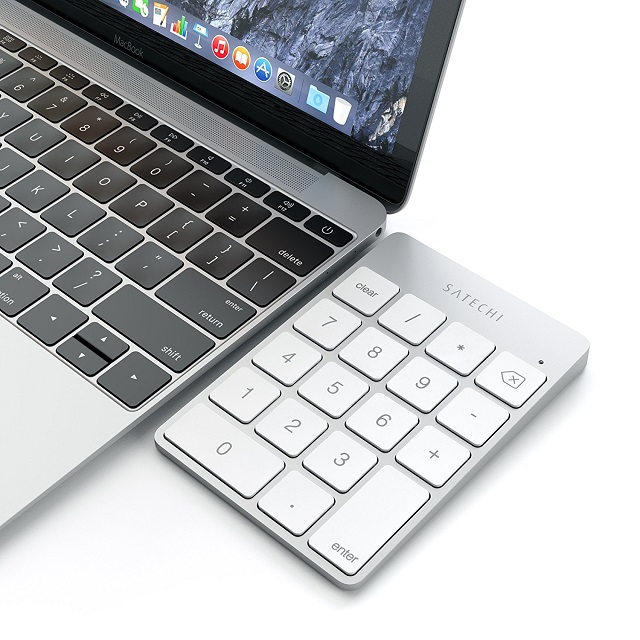 Next week, on October 27, Apple will hold a press event called "Hello Again". While the company has not officially announced the products to be unveiled, rumors suggest we will see new Mac computers. Apple has long neglected its desktops and laptops (it still sells a MacBook from 2012), and consumers have been eagerly anticipating refreshed machines with better specifications. It is quite likely that the wants of these folks will be met next week.
Unfortunately for some, Mac computers (and many Windows machines too) no longer have number pads (aka keypads). For those that work in the financial sector, or simply learned to type using a keyboard with a number pad, this can be problematic. Fortunately, there are many third-party options on the market. Today, Satechi releases the all-new Slim Aluminum Wireless Keypad and it looks like a winner. If you are planning to buy one of the rumored new Mac computers, this could be a godsend. Not only does it come in colors to match Apple devices, but it is slimmer than Satechi's prior offering.
"The Bluetooth-enabled Slim Aluminum Wireless Keypad, compatible with both Mac and PCs, boasts an ergonomic, tilted design and anti-slip pads to provide maximum comfort and securely keep the keypad in place while working on important tasks. The keypad's slim profile means users will not only have a clutter-free workspace without wires, but also, can easily take the keypad with them, in a laptop bag, backpack or purse, when working remotely", says Satechi.
The accessory manufacturer further shares, "the Slim Aluminum Wireless Keypad has a built-in rechargeable lithium battery that lasts up to two weeks, and to conserve battery life, will automatically go into sleep mode when not in use after one hour. As with the other products in Satechi's Metallic Series, the Slim Aluminum Wireless Keypad has a premium aluminum construction, available in three sophisticated finishes, Gold, Silver and Space Gray, to perfectly compliment the Apple Magic Keyboard or any workspace".
With the MacBook Pro rumored to be getting a slimmer body, a more svelte keypad will definitely complement the computer. Even if you have an older Mac -- or Windows PC -- the Slim Aluminum Wireless Keypad should work well. This can easily fit in a bag for those that travel, and will also look beautiful sitting on a desk.
If you are interested in buying it, you can get it immediately from Amazon for $39.99 here.