Could Apple make Mac laptop buying any more confusing?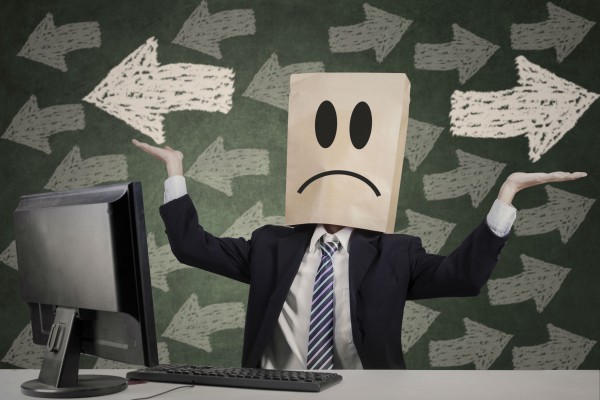 The Mac laptop line, following today's new announcements, looks lots less like Apple and more like Compaq—where Tim Cook worked much earlier in his career, incidentally, long before the original IBM PC clone-maker's demise. Confusing. Complicated. These are apt descriptions that might just send the ghost of Steve Jobs skyward on either—take your pick—Halloween or Day of the Dead.
Among Apple cofounder's first tasks when returning to the chief executive's chair in 1997: Simplifying product families. Jobs cut the deadweight, surprising many people by killing off Newton, for example. Complex product lines define Apple under successor Cook, by contrast.
Gauging only by base models, without enclosure hues, Apple offers 11 different laptop SKUs: Two 12-inch MacBook (times four color combinations); two 13-inch MacBook Air (one color); four 13-inch MacBook Pro (three two-colors); and three 15-inch MacBook Pro (two two-colors). Granted, rivals like Lenovo offer way more SKUs. But the Chinese manufacturer isn't Apple and the expectations that come with the name.
Problem isn't so much number of base models—before they can be configured, adding many more—is the overlap of prices and capabilities among the different Mac laptops.
MacBook Pro 13
The cheapest MacBook Pro 13 is $1,299 for 2.7GHz Intel i5 processor, 8GB RAM, 128GB SSD, and Intel Iris Graphics 6100. But, wait, that's an older model. To get the new thang announced today, price is $1,499—and that's without the hottest new feature: TouchBar.
You do get a 2GHz Core i5 chip, 256GB SSD, Iris Graphics 540, brighter display, and newfangled Butterfly keyboard. But some buyers should rightly wonder why a 2GHz laptop costs more than a 2.7GHz one. Apple could argue it's a generational thing between Intel chips, and addition of extras like double the storage and thinner design. Something else: You keep your USB ports on the older and lose them on the newer (in favor of Thunderbolt 3 ports). Buy more, and you pay more to add adaptors and dongles, too.
What I have long called the Apple Pay-more Principle applies. The current generation MacBook Pro 13 sold for $1,299 yesterday—and core capabilities were same as costlier models. That's no longer the case. Entry-level is now last-year's MBP, and something newer costs $200 more. But don't be confused, and mistakenly buy the $1,499 model wanting TouchBar. To get the newest tech, the starting price is $1,799, making the true entry level $500 more than before today's big Apple media event.
For that $1,799 you get 2.9GHz Core i5 processor, 8GB RAM, 256GB HD, Iris Graphics 550, TouchBar and TouchID, and four Thunderbolt 3 ports. Honestly, for this price, 8 gigs is stingy. Doubling the storage costs $200 more. The three costlier MBPs are available in two colors, space gray and silver, while the $1,299 laptop is silver only.
MacBook
Speaking of that price, and some buyer confusion, is 12-inch MacBook, which also starts at $1,299, but is grossly underpowered compared to MBP 13: 1.1GHz Core m3 processor, 8GB RAM, 256GB SSD, and Intel Graphics 515. Before today's new laptop unveiling, small size, display quality, and Butterfly keyboard were capabilities that set apart MacBook. That's still true when comparing entry-prices, given the 2.7GHz MBP is vintage March 2015 and is 14 percent larger and consumes 20 percent more volume than its successor.
Jump up in price to $1,499 and 13-inch MBP looks lots more attractive than the high-end 12-inch MacBook selling for $100 more. MBP now has a next-generation Butterfly keyboard and super-bright screen, all packaged into a considerably smaller enclosure. Neither laptop has the TouchBar. MacBook config: 1.2GHz Core m5 chip, 8GB memory, 512GB SSD, and Intel Graphics 515.
MacBook is lighter at 2 pounds, versus 3 lbs for MBP 13 but bulk and breath matter more. Comparative sizes: .52 x 11.07 x 7.74 inches versus .59 x 11.97 x 8.36 inches, respectively. Size is no longer much of a differentiator.
MacBook Air
Comparing screens, at 13 inches, there also is MacBook Air, which costs considerably less. Starting price is $999 for 1.6GHz Core i5 processor, 8GB RAM, 128GB SSD, and Intel Graphics 6000. This is Apple's value laptop, if you don't mind non-Retina Display. Before today's MBP announcement, the Air filled a niche for thin-and-light 13-inch Apple laptops. No longer. Price is its only compelling attribute—and only below $1,000.
The costlier $1,199 config is a real loser compared to $1,299 MBP 13, which weighs about the same but is smaller, while offering many more benefits, such as better screen, keyboard, processor, and speakers. MBA measures .68 x 12.8 x 8.94 inches. Why not pay another 100 bucks and get so much more from MBP 13? Some confused buyers may not see the difference.
There are good reasons to ask why Apple offers either 12-inch MacBook or MBA 13. Apple knows. During today's keynote, Phil Schiller, who heads up marketing, explained the rational for the $1,299 Pro without TouchBar: "We think that a lot of potential MacBook Air customers will be very excited about this product, too". He then went on to basically make a sales pitch for MBP 13, by pointing out the size advantages—12 percent thinner and consuming 13 percent volume than the Air. He described MBP 13 as "smaller" and "better in every way".
MacBook Pro 15
MacBook Pro 15 stands apart from the other laptops such that most buyer's shouldn't be confused. The laptop is considerably larger than the others, packs dedicated graphics, and is considerably more expandable with respect to external devices, like monitors. There is price differentiator, too: $2,399 and $2,799 base models.
That said, the Pay-more Principle once again applies. Like MBP 13, yesterday the entry-level 15-inch MacBook Pro offered same core features as the higher-end models. No longer. For the same $1,999, buyer's get vintage May 2015 laptop with 2.2GHz Core i7 processor, 16GB RAM, 256GB SSD, and Iris Pro Graphics. The newest thang now costs $2,399, which arguably is 100 bucks less than what it replaced. Config: 2.6GHz Core i7 chip, 16GB RAM, 256GB SSD, and Radeon Pro 450 graphics. All the goodies come too: Butterfly Keyboard, TouchBar and TouchID, etc. A $2,799 model doubles the storage, notches up to 2.7GHz chip, and bumps up to 455 graphics.
MBP, like Microsoft Surface Book targets a creative professional with specific computing-task needs. The buyer pays more and gets more, and benefits for the capabilities are clearer. However, Apple laptops with small screens and lower selling prices crowd together, presenting somewhat confusing benefits for the cost.
Imagine the savings that Apple could pass on to customers or higher margins to its bottom line by streamlining manufacturing to MacBook Pro 13 and 15—particularly at a time when PC sales are falling. During Q3, shipments fell for the eighth consecutive quarter, according to Gartner. The new MBP makes the Air obsolete and gives little compelling reason to buy 12-inch MacBook. They're both dead weight.
Keep Steve Jobs' ghost in the grave and simplify, Apple.
Image Credit: Creativa Images / Shutterstock