FINsix DART-C is world's smallest USB-C laptop charger -- for MacBook Pro (2016) and more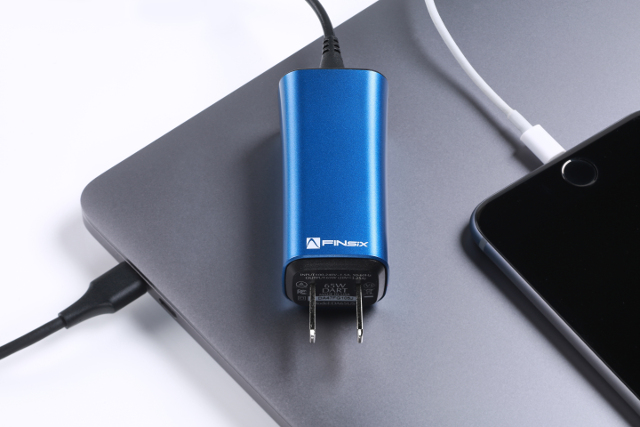 USB-C is proving to be quite the wonderful connector. It is being used on many devices, such as laptops, tablets, and smartphones. This means you can often charge multiple devices using a single power adapter -- very convenient for those that like to pack light. You can also connect things like flash drives to both PCs and mobile devices -- very cool.
Apple recently released its newest MacBook Pro, and it only has USB-C ports for connectivity; it even charges using these ports. The power brick is surprisingly chunky, however, meaning it can take up a good amount of room in a bag. If you desire a smaller charger for your MacBook or other USB-C devices, I have good news. Today, FINsix announces the DART-C, which it claims is the 'world's smallest' USB-C laptop charger.
"DART-C is a powerful 65-watt laptop charger that is up to four times smaller and lighter than a traditional A/C adapter. The additional built-in USB port allows for simultaneous charging of another electronic device, like a phone or tablet. With the addition of DART-C, the DART family of chargers expands its ample reach of supported laptops to include Apple MacBook and MacBook Pro, Dell XPS 13, Lenovo ThinkPad 13, and ASUS ZenBook 3", says FINsix.
The company further explains, "DART-C will be available at FINsix.com and other resellers beginning in January 2017 for a price of $99.99. A USB Type-C cable will also be available at FINsix.com as an accessory to previous DART owners for $34.99. Like the DART launched in September 2016, DART-C comes in a variety of stylish colors, including blue, gunmetal, magenta, orange, and silver".
Apple's USB-C charger for the 13-inch MacBook Pro (2016) is 61 watts, meaning the Dart-C is slightly more powerful. However, FINsix's solution is also $30 more expensive. The charger that comes with the 15-inch MacBook Pro is 87 watts, and is only $79 -- making it both more powerful and less expensive than the Dart-C.
While I appreciate FINsix making a more compact USB-C charger, consumers may balk at spending $100 for a third party solution when the the original manufacturer's offering is less expensive, and in some cases, more powerful. You would have to be pretty desperate for laptop bag space to spend that kind of money. Well, at least it offers an additional port for charging something else simultaneously, right?
If you do want to buy it, you can pre-order it here now.