Santa brought you a OnePlus 3T? Here's what to do first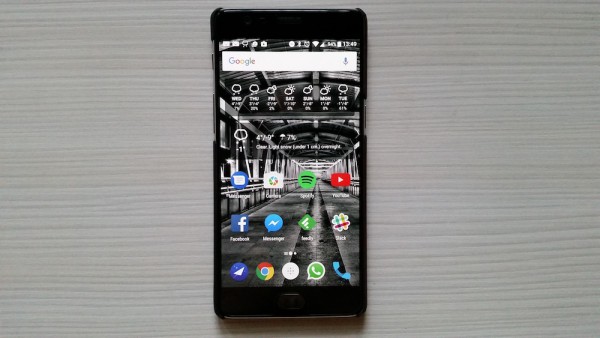 Consider yourself extremely lucky: Santa just brought you one of the hottest smartphones of the year. The OnePlus 3T is the latest and greatest in OnePlus' line of flagship killers, packing really powerful hardware, a nice, big screen, solid camera, lovely software and a sleek design. It is also terrific value for money, but, hey, who cares about that right now?
If you are like me, all you can think about is taking it out of the box, setting it up and starting to use it right away. Here is what you need to know.
Let's Talk Accessories
If you opened the box and there was no case inside, chances are you are probably thinking of buying one. The OnePlus 3T is not exactly slippery, but a case would certainly make it easier to grab and hold in your hands. It also adds some protection, mainly to the lovely metal back and main camera.
I recommend an official OnePlus 3T case. In my review, I discussed one of the wood options -- specifically, the Ebony variant -- and found it to not only fit right but look and feel great too. There are other cases to choose from, like the Karbon and Sandstone models, but I would stick to something a bit different for the OnePlus 3T.
OnePlus also makes some really interesting earphones. I tested the Bullets (V2) and found them to be good and nicely priced at just under $20. If you want a pair of wireless headphones, check out my review of the Noontec ZORO II. They're awesome.
If you want to buy more than one accessory, you should know that OnePlus also offers them in bundles to help you save a bit of money. The biggest of them all is accordingly named Go Big or Go Home. For between $79 to $88, it includes a case of your choosing, Dash power adapter, a one-meter or 1.5 meter Dash USB Type-C cable, a black or white Bullets (v2) set and a tempered glass screen protector.
That bundle makes a lot of sense, because you are getting what I consider to be must-have accessories. Granted, you could skip the tempered glass screen protector, as the OnePlus 3T comes with a one, albeit a standard screen protector, already fitted from the factory. But the extra Dash charger and cable are really useful, especially if you opt for the longer cable.
You can have the set that came in the box at home and take the one from the bundle with you on trips or at work. If you misplace the former, you have a spare set to charge your smartphone with. And let's face it, the chances of you finding a USB Type-C cable around, that actually works well (better said, won't damage your phone), are pretty slim.
Not to mention that, even if you do find one, Dash charging requires an original cable and charger anyway, otherwise you are left with the standard, much slower charging speeds. This is something to keep in mind when buying multiport USB chargers, because most --if any -- don't support Dash charging. And that battery inside the OnePlus 3T is pretty big, at 3,400mAh.
Software Tips
So, what do you need to know? Well, the initial setup is pretty straightfoward, but I recommend configuring the fingerprint sensor and enabling double tap to wake up the screen while you're going through it. The fingerprint sensor is extremely quick and reliable, and much more convenient than a PIN, password or pattern (and probably more secure, if you are tempted to use your birthday for a PIN).
The double tap to wake option will make it easier to check the time or see the notifications on the lockscreen, particularly when you have the OnePlus 3T on your desk or a table. It is not the only customization options that you can turn on during the initial setup, but it is the one I would recommend everyone to enable.
After you are done with the initial setup, you should make sure that you're running the latest version of OxygenOS. That's 3.5.4, at the time of writing this article. Having the latest version means you get access to a 1080p 60FPS mode to record videos, more stability, and fewer bugs to deal with.
At the time of writing, the latest version of OxygenOS -- OnePlus' distribution of Android -- is still based on Marshmallow. An update to Nougat is coming though, with the end of the year being the official estimate. It should be available right away on your device, after it's launched. If not, you can always install OperaVPN and set it to Canada. That should do the trick to speed things up.
In the Settings department, there are some options that worth checking out. Ambient display is one of them. It turns on the screen when you get a notification so you can see what's going on without interacting with the device. If you turn on the proximity option, you will be able to turn on the display by moving your hand above it. Pretty cool, right?
The OnePlus 3T also lets you choose how you want colors to be rendered on the display. I prefer the sRGB mode, for a more natural look, which also makes it easier on the eyes in low light. While you're here, also turn on adaptive brightness, to make sure the display is adapting to the light around you. (At night, there's a dedicated mode that you can access from the quick settings menu.)
If you prefer a dark theme, you're in luck. From the Display menu, you can switch from the default "light" version to darker hues pretty much everywhere. That works great with the OLED panel on the OnePlus 3T, and it is easier on the eyes too.
In terms of apps, OnePlus is making it easy to uninstall most of the built-in apps and replace them with your personal favorites. You can't do that for all of them, but the non-critical ones can be removed. It's a nice touch. But make sure that you give them a try first, because you might like some of the customization options they offer.
The Camera app, for instance, has a nice, simple design, but it also lets you go into a manual mode if you want and take RAW photos, if you want to more editing flexibility. For a gallery app, I recommend installing Google Photos, and skipping the default one, because it's hassle free.
In the default resolution setting, you can upload an unlimited number of photos, you can delete the photos that have already been backed up with a single click, and, generally speaking, it is hassle free. It just works, as someone in the Apple camp would say.
Feel free to check out my first-impressions take on the OnePlus 3T for more software customization ideas.
What Next?
Install all your favorite apps and enjoy it!
If you are the proud owner of a new OnePlus 3T, don't forget to leave a comment below. Share your experience with us! We'd love to hear what tips and tricks you have found and how the flagship killer is treating you.