Google unveils 'Super Chat' earnings scheme for YouTube content creators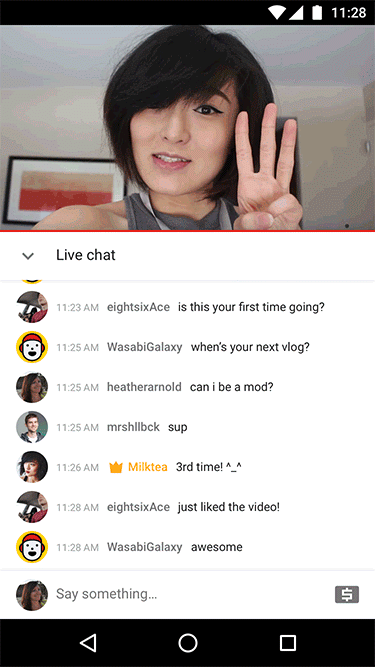 Profits made by YouTube creators can vary wildly. One way these people earn money is from views -- every time a viewer watches a video with an advertisement, the person gets a very small sum. On there own, each view is worth less than a penny. This can ad up, however, and some creators -- such as PewDiePie -- can earn millions of dollars each year.
Today, Google is introducing Super Chat, which is a new way for YouTube content creators to generate money. When a creator is hosting a live stream with chat, they can sell a "Super Chat" to viewers. It is essentially a highlighted chat message, allowing the viewer to stand out from the non-paid users. In theory, this will help the viewer get noticed by the streamer, so that they can get a shout-out, or more easily get a question answered.
"Anybody watching a live stream can purchase a Super Chat: a highlighted message in the chat stream that stands out from the crowd to get even more of your favorite creator's attention. And Super Chats remain pinned to the top of chat for up to 5 hours, giving more airtime for your messages," says Barbara Macdonald, YouTube Product Manager, Google.
Macdonald further shares, "As we welcome a new tool for fans and creators, we bid farewell to an old one: Fan Funding. We launched Fan Funding in 2014 to let viewers make voluntary payments to support creators directly. While we were really excited about Fan Funding, it never achieved widespread usage outside of live streams, where we saw the majority of revenue. Fan Funding will stop accepting new sign-ups today, but can continue to be used on enabled channels until February 28, when it will be discontinued."
This seems like a nice way to replace Fan Funding, as the viewer gets more out of the deal. In other words, it is more than just a donation by the fan or virtual begging by the content creator. Unfortunately, Super Chat is in Beta for now, and it is limited to certain YouTubers only. The true global rollout for most content creators will be on January 31.
Will you pay money for the opportunity of getting noticed by your favorite YouTuber (such as this guy)? Tell me in the comments.