temps is a gorgeous weather app for the desktop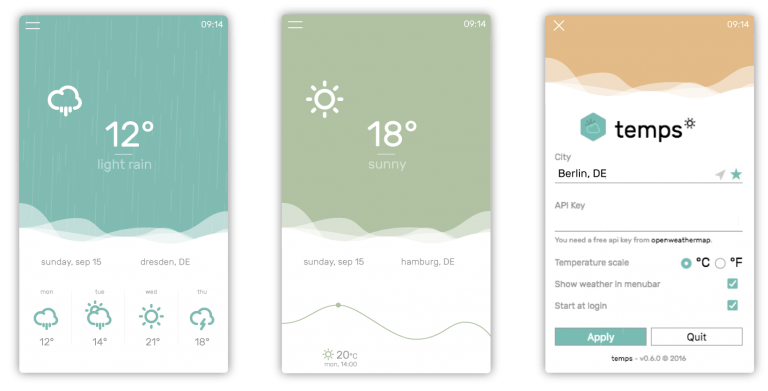 temps is an open-source Electron-based weather app for just about every desktop: Windows, Linux and Mac. There's no installation required, just unzip and run, and in a few seconds you're looking at temps' stylish, app-like interface.
An icon represented our current weather; there are background rain, snow and thunder animations; a temperature, four-day weather forecast, and status information including location, date and time.
temps opens with the default location of Berlin, but tapping the top-right menu button enables changing this to whatever you need.
Clicking in the forecast area displays a chart representing temperature for the next day. Clicking and dragging over the curve displays the time and temperature predicted. This is all very well presented with a gentle color scheme and simple but appealing backgrounds.
Although the interface looks great, it does have some usability issues. Its features can be hard to discover, for instance, so you may not realize the predicted temperature chart is available unless you click in the right place.
Similarly, there's a star icon by the weather location, but it has no tooltip, so you're left to figure out for yourself that it's a "Favorite" setting. Even when you do that, there's no indication of what it means and how you can use the feature, and no local help file either (check the website for guidance.)
The next problem might be when you click and drag on the weather panel to move it elsewhere, and find that you can't, because it's not a "real" top-level window. This means it also disappears if you click on any other part of the screen, annoying if you want to keep the weather in view while accessing something else.
While these issues are irritating for the first few minutes, once you understand how temps works they mostly fade away, and the program can become very convenient to use. It may be launched with a global Ctrl+Shift+W key, for instance, giving you an instant status display, and one click elsewhere allows you to continue with whatever you were doing.
The only significant gotcha is that temps uses a free OpenWeatherMap API key to grab its data, which means it can only make a limited number of queries per day: if there are too many other people using the program, weather updates may fail. To avoid this you should really get an API key of your own. It's a hassle, but not too difficult -- just hand over your email address, choose a user name and password and you'll have an activated API key for your use only within a few minutes.
temps is an open-source tool for Windows, Linux and Mac.