TransferWise's Facebook Messenger bot lets you transfer money internationally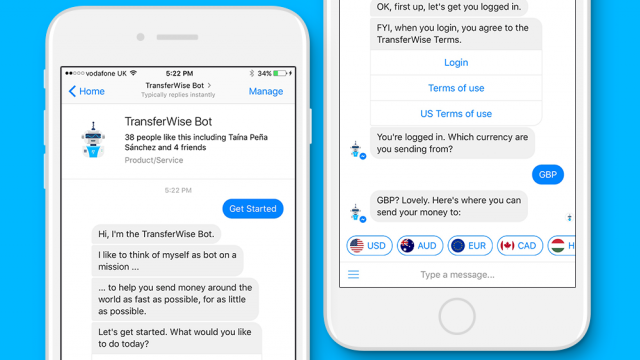 Top messaging services have evolved past their basic role, as the major players in this market look to differentiate their offerings from the rest of the crowd. Facebook, for instance, added a bot platform to Messenger last year to make it more relevant to businesses and consumers.
Through bots, businesses provide better customer service while consumers can more easily get in touch with service providers. The platform has quickly gained traction, with the latest addition to the fold being international money transfer service TransferWise.
According to TransferWise, the bot enables its customers to "send money -- and set up rate alerts -- without ever leaving the comfort of Facebook's Messenger app." It supports transfers from Australia, Canada, Europe, UK and US.
The TransferWise bot, which is built using the company's API, is designed to guide customers through each step needed to make a money transfer and provide assistance when needed. Based on the screenshots provided by TransferWise, which you can see at the top, users are taken to a login page, and have to choose the currency and select the country where they want to send money to.
The rate alerts come into play when there's a currency exchange involved, which is common between two countries (generally, outside of the EU). The way that the alerts work, users get a message each morning with the rate they are interested in (like USD to CAD, for instance) so that they can decide whether to make a transfer or wait until the rate improves.
If you are not familiar with TransferWise, it is designed around the idea of minimizing transfer fees for international payments. Here's an example of how it works, in short.
If you live in the US and want to send money to a friend in the UK, TransferWise lets you make the payment through a domestic bank (it provides the details needed to make the transfer) so that you will only get hit with a domestic transfer fee, which is typically much lower than for a usual international transfer. After a couple of days, it sends the respective amount to your friend in the UK, from a local bank.
TransferWise's fees differ, depending on a number of factors, but to give you an idea of the cost, if you want to make a transfer in EUR from USD you will pay a one percent fee up to $5000 and 0.7 percent over that. The minimum fee is $3. Using a credit or debit account will add to the cost.
I have used TransferWise in the past and it worked out great. The service is easy to use and affordable, but it may take longer than a typical transfer.
TransferWise says that it moves over £800 million (nearly $1 billion) every month and that it has over a million customers, a list which includes "businesses and commercial banks like N26 and LHV".
The TransferWise Facebook Messenger bot is available here.