Logitech makes the all-new 9.7-inch iPad perfect for the classroom with 'Rugged Combo'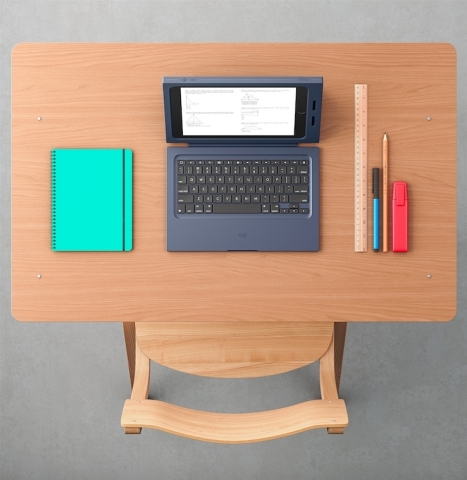 Earlier today, Apple introduced an all-new low-cost tablet, simply called "iPad." This 9.7 inch variant of the iPad starts at $329, making it incredibly affordable. As more and more schools turn to Chromebooks due to their low cost, this new iPad could be the perfect way for Apple to get the education segment excited about iOS again.
Today, Logitech introduces a new product that could make the new iPad perfect for classrooms. Called "Rugged Combo," it is a combination case and keyboard that turns Apple's newest tablet into a makeshift laptop. Best of all, the extremely durable nature of the case should protect it from drops and abuse by students.
"The Rugged Case's frame is lined with soft polymer ribs that flex on impact to protect iPad from drops as high as six feet onto surfaces as hard as concrete. The kick-back stand has sturdy mechanical hinges that move freely within a 40-degree range, while staying firmly in place, without collapsing, even with aggressive tapping," says Logitech.
The company further says, "The keyboard physically connects to iPad using Logitech's proprietary connector, making it a secure solution for student testing and exams. The keyboard also sources power directly from iPad, so teachers or students never have to charge the keyboard. The keyboard's design leverages Logitech's extensive expertise to provide laptop-like, comfortable typing to minimize mistakes. Its dedicated row of short-cut and function keys, also make it easy to navigate various iPad functions, directly from the keyboard."
This slideshow requires JavaScript.
The Rugged Combo can be purchased as a pair or you can pick up the Rugged Case and Rugged Keyboard separately. In other words, if a student breaks the keyboard, you do not have to buy the combination entirely -- just the part you need.
Pricing is unknown at this time, and the product will apparently only be sold by Apple for education directly starting later this week. That means home consumers may not get the opportunity to buy this, which is a shame -- it looks like a great option for all new iPad owners. Hopefully Logitech will create a new SKU for home users who want to make a purchase.