Apple buys automation tool Workflow, tweaks some features, and offers it to iOS users for free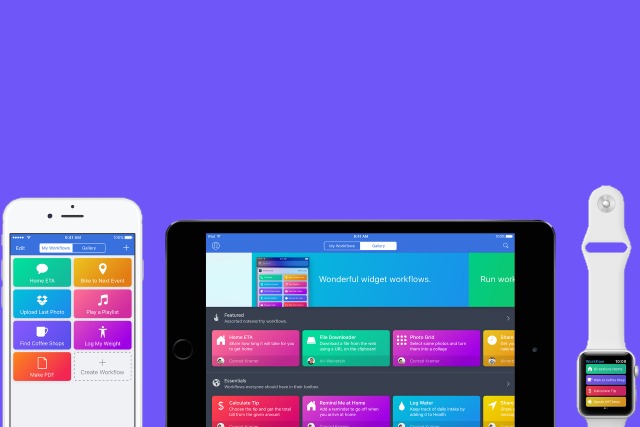 Automation tools like IFTTT continue to be popular, and as if to prove this, Apple has just bought the iOS app Workflow. Working in a similar way to Automator for macOS, Workflow brings task-oriented automation to iPhone and iPad users.
There's good news to top off the acquisition revelation. Apple is not only keeping Workflow up and running rather than shutting it down, it's also hanging onto the original team of developers behind the app. Even better, Apple is making Workflow available free of charge, dropping the previous $2.99 price tag.
Financial details of the arrangement have not yet been made public, but Apple has confirmed to TechCrunch that the deal has been signed. The company is full of positive things to say about the WorkFlow app, "in particular an outstanding implementation for VoiceOver with clearly labeled items, thoughtful hints and drag/drop announcements, making the app usable and quickly accessible to those who are blind or low-vision."
Workflow developer Ari Weinstein said:
We are thrilled to be joining Apple. We've worked closely with Apple from the very beginning, from kickstarting our company as students attending WWDC to developing and launching Workflow and seeing its amazing success on the App Store. We can't wait to take our work to the next level at Apple and contribute to products that touch people across the world.
At the moment, Workflow continues to be offered for download within the App Store, but it is conceivable that Apple will be looking to integrate the features of the app into future versions of iOS.
The Guardian notes that since the acquisition, a few things have changed in the app:
Some things never change, however. Following the deal, a Workflow update removed a number of features relating to compatibility with Google's services. A mapping feature was swapped to use Apple Maps, a translate tool was altered to use Microsoft Translate, and Workflow can no longer be used with the iOS version of Google Chrome.

Also removed are integrations with read-later app Pocket, messaging services Line and Telegram, and minicab service Uber.
You can download Workflow from the App Store.