Google Wifi and Home to launch in the UK -- with a few hidden British treats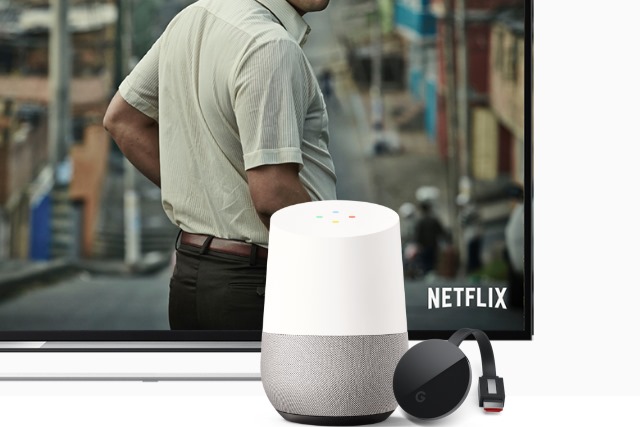 After launching in the US late last year, Google Home is making its way to the UK. Google's voice-activated rival to the Amazon Echo is powered by Google Assistant, and can be used to play music, control smart devices, and perform online searches.
Also making its way to the UK is Google Wifi, the company's mesh Wi-Fi service that helps to ensure there are no wireless blackspots in the home. As well as giving uninterrupted internet access throughout the house, Google Wifi also features parental control options that can be used to stop kids from overindulging on their phones and tablets.
As it has done with its products in the past, Google has tailored Google Home for the UK market. Although the company is giving little away, it says that "we've hidden a few British treats for you to discover."
Whatever you are looking to achieve, a quick call of "OK, Google" is all it takes to control music, create calendar entries, ask questions, hear the news, compile a shopping list, translate foreign words and phrases, and much more -- all thanks to natural language processing, machine learning and voice recognition.
Google Home launches on April 6 priced at £129. As well as the Google Store, it will also be available from Dixons, Argos, Maplin and John Lewis, and will make its way to EE in due course.
While Google Home is arguably the more exciting of the two products, Google Wifi is certainly incredibly useful. Announcing the upcoming launches, Google says:
Traditionally Wi-Fi routers haven't always been built to support the increasing number of devices we use or high bandwidth activities like gaming or watching videos. Google Wifi is a connected system that replaces your current router to bring smarts, security and simplicity to home Wi-Fi to give you consistently strong coverage in your home.

Google Wifi uses a technology called mesh Wi-Fi (something usually only seen in expensive commercial installations). Within our mesh network, each Google Wifi point creates a high-powered connection, and the different Wifi points work together to determine the best path for your data. The result is Wi-Fi coverage even in hard-to reach areas, not just right next to the router.
Google Wifi launches on April 6 priced at £129 for one device, or £229 for a two-pack. To start with, it is available from the Google Store, Dixons, Argos, Maplin and John Lewis, and will be coming to Amazon soon.