Google tackles fake news with global fact-checking rollout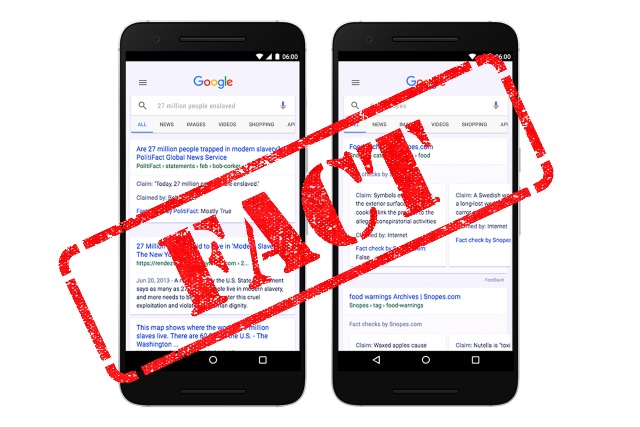 The spread of fake news has become something of an epidemic in recent years, and there has been pressure on the likes of Google, Facebook and Twitter to do more to stem its flow. Google's Fact Check feature is not new, but today the search giant is rolling out the feature around the world.
A global rollout is important if such a tool is to have any real impact. It's all well and good to have reports fact-checked on one side of the world, but it's of little use if the same fake stories remain unquestioned and untested elsewhere. Google is doing its part by making the Fact Check label available in Google News everywhere, and spreading it into search results in all languages as well.
The Fact Check label has been around since October, providing an at-a-glance way to determine whether or not a particular story has been verified as true. Google admits that it will not be possible to fact-check every single search result it displays, and the company points out that it is not responsible for the actual fact-checking process.
Announcing the global rollout, Google says:
After assessing feedback from both users and publishers, we're making the Fact Check label in Google News available everywhere, and expanding it into Search globally in all languages. For the first time, when you conduct a search on Google that returns an authoritative result containing fact checks for one or more public claims, you will see that information clearly on the search results page. The snippet will display information on the claim, who made the claim, and the fact check of that particular claim.
In all, there are 115 organizations involved in the fact-checking process, and Google hopes that by highlighting stories which are known to be true, people will be encouraged to conduct additional research into those that have not earned a fact-check label. Google is trying to be open about exactly what is going on with fact-checking;
For publishers to be included in this feature, they must be using the Schema.org ClaimReview markup on the specific pages where they fact check public statements (documentation here), or they can use the Share the Facts widgetdeveloped by the Duke University Reporters Lab and Jigsaw. Only publishers that are algorithmically determined to be an authoritative source of information will qualify for inclusion. Finally, the content must adhere to the general policies that apply to all structured data markup, the Google News Publisher criteria for fact checks, and the standards for accountability and transparency, readability or proper site representation as articulated in our Google News General Guidelines. If a publisher or fact check claim does not meet these standards or honor these policies, we may, at our discretion, ignore that site's markup.
Image credit: Tashatuvango / Shutterstock