Microsoft Authenticator app gets phone sign in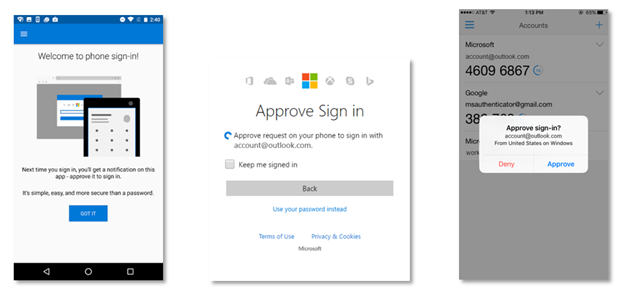 Microsoft is making it easier than ever to sign into a Microsoft account, adding a new authentication option in the Microsoft Authenticator app that lets you approve the sign in attempt using just your Android smartphone or iPhone.
Here's how it works. When you enter your Microsoft account handle you will get a prompt from Microsoft Authenticator to approve or deny the attempt. To take advantage of this option, you need to add your Microsoft account to the app or, if you already did so, turn on the "Enable phone sign-in" option.
"Here in the identity division at Microsoft, we don't like passwords any more than you do! So we've been hard at work creating a modern way to sign in that doesn't require upper and lowercase letters, numbers, a special character, and your favorite emoji," says Microsoft. "And after a soft launch last month, we're excited to announce the GA our newest sign-in feature: phone sign-in for Microsoft accounts!"
This is not a new concept, not even for Microsoft, as the software giant had something similar on Android in the form of the Authenticator app that I talked about nearly three years ago. But, that was designed for folks who use two-factor authentication, whereas this new authentication option is open to everyone.
Windows fans might notice that there is no word of "Windows Phone" support. That's because Microsoft is focusing on Android and iOS. Depending on how successful this feature is on the two platforms, it will decide whether to add it to the Microsoft Authenticator app for its own smartphone operating system as well.
Microsoft notes that less than five percent of the active users of Microsoft Authenticator apps run Windows Phone (presumably this includes Windows 10 Mobile as well).
Microsoft Authenticator can be downloaded from Google Play (Android) and Apple App Store (iOS).