Facebook is testing pre-emptive related articles in News Feed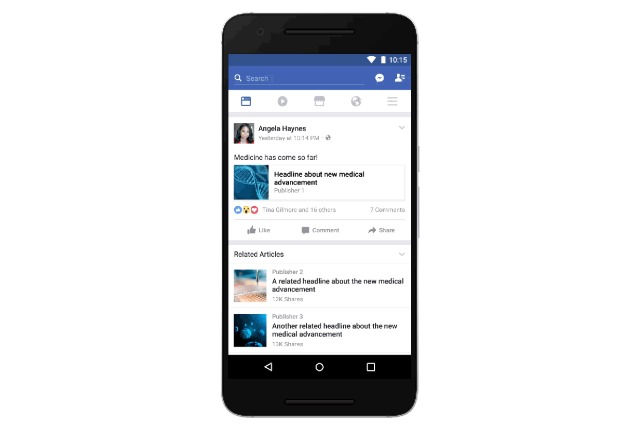 The "related articles" feature of Facebook's News Feed is nothing new -- in fact it has been with us for more than three years. But now the social network is trialling a new way of displaying related content; rather than waiting until you have clicked on a story to suggest related stories you might be interested in, Facebook will instead be offering these suggestions before you read an article.
As well as giving users the chance to read more about a topic from different source, Facebook says that it will help people to discover articles which have been fact-checked. It is -- almost by accident, it seems -- another way for Facebook to tackle fake news.
By displaying links sooner rather than later, Facebook is trying not only to give users more to read, but also to keep them on the site for longer. This in turn helps to keep advertisers happy, which keeps the money rolling in.
The trial also means that users are far more likely to be exposed to news from a wider range of sources. Even within the limited scope of headlines that are displayed, the change in display timing should mean that Facebook users see at least headlines from sources they might not otherwise read.
Writing about the new test in a blog post, News Feed product manager Sara Su says:
Today, we're beginning to test Related Articles that might appear before you read an article shared in News Feed. These additional articles, which appear for topics many people are talking about on Facebook, will appear in a unit below the link. That should provide people easier access to additional perspectives and information, including articles by third-party fact-checkers.

For example, during an instance when a lot of people are discussing an article about a new medical advancement, we may also show you a few other articles below it from different publishers about the same medical topic.
Facebook says that the change will not have any impact on the way information is displayed on Pages.