Facebook goes on the offensive against fake news and aims to educate users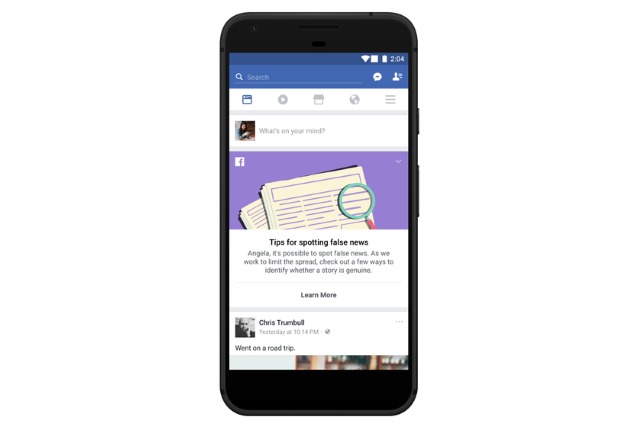 Having introduced various tools to fight fake news, the next weapon in Facebook's arsenal is education. Over the next few days a large "Tips for spotting fake news" banner will appear at the top of news feeds in 14 countries, but the approach it is taking is unlikely to have much impact on those most influenced by, and most likely to share, fake news.
Like Google, Facebook is taking steps to tackle fake news. The social network has already announced a raft of measures aimed at stamping out the problem, but now it is trying to not only educate people about how to spot fake news, but also to stem the spread of fake news, and to disincentivize the practice.
Unlike Google's fact-checking, Facebook's education program relies heavily on people being willing to not only read through reams of tips and advice, but also to be willing to conduct research for themselves. To start with, the UK, the US, Germany, France, Italy, the Philippines, Indonesia, Taiwan, Myanmar, Brazil, Mexico, Columbia, Argentina and Canada will be targeted by Facebook's education campaign.
But it remains to be seen just what sort of impact education will actually have. In many ways, Facebook is preaching to the converted. People who are aware of the problem of fake news -- or, indeed, who are just interested in global news in general -- are already likely to read around a topic rather than just blindly sharing articles before determining their veracity. Those who already habitually believe and share fake news, conversely, are the very people who are less likely to be prepared to spend time researching, and less likely to be influenced by tips Facebook puts forward. The same is true of people who are actively trying to promote a fake narrative, especially if it is not for immediate financial gain.
Facebook knows that education alone is not enough. Vice president of News Feed at the company, Adam Mosseri, says:
When people click on this educational tool at the top of their News Feed, they will see more information and resources in the Facebook Help Center, including tips on how to spot false news, such as checking the URL of the site, investigating the source and looking for other reports on the topic.

News Feed is a place for authentic communication. Improving news literacy is a global priority, and we need to do our part to help people understand how to make decisions about which sources to trust.

False news runs counter to our mission to connect people with the stories they find meaningful. We will continue working on this and we know we have more work to do.
Facebook is also making it easier for people to report fake news that pops up on the social network, and is also changing the way in which stories are ranked. The site has already started to flag up unconfirmed stories as "disputed," and this is something that is set to continue.