Microsoft HoloLens can improve surgery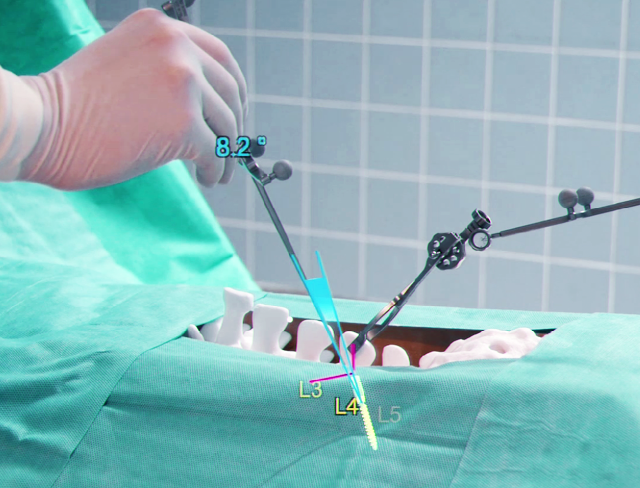 Augmented reality is an impressive technology with a big future. While there are many demos surrounding AR and mixed reality, and despite some limited real-world use, it is still largely a promise at this point. In other words, the maturing technology is hardly in the mainstream, and many of its current uses are arguably inconsequential.
Today, however, augmented reality is being shown to potentially have a significant impact on the medical community. You see, a company called "Scopis" has developed a surgery solution that leverages Microsoft HoloLens. By wearing the mixed reality glasses, the surgeon sees an overlay, allowing him/her to achieve better accuracy. This, in turn, can improve the success rate of certain surgical procedures. In this case, the focus is largely on the spine, but it could be made to work with any type of surgery.
"To use the Scopis Holographic Navigation Platform during such an operation, the surgeon wears Microsoft HoloLens glasses, which communicate wirelessly with the Scopis system. The planned positioning of the pedicle screws is projected onto the surgeon's field of view and overlaid exactly onto the patient, creating the mixed reality experience. This allows the surgeon to find the screws' planned positions faster and to align surgical instruments interactively with the holographic visualization," says Scopis.
The company further explains that the solution "improves the accuracy of mixed reality overlay using additional 3-D position tracking. The Scopis holographic platform revolutionizes surgical workflows by enabling surgeons to use gestures to place virtual monitors into their visual field near the patient, so their eyes remain on the operative field. Scopis' technology could also benefit patients and medical professionals by reducing the radiation exposure from fluoroscopy devices that are currently used to determine the optimal position for screw placement during surgery, as well as improve surgical outcomes through more precise alignment and shorter surgery times."
As you can see in the video above, this solution is very impressive, and it has the potential to help people in the real world. With improved accuracy and speedier procedures, patients can have a better outcome, including both a greater chance of survival and a reduction in complications. It is really heartwarming to see technology being used to impact lives in a meaningful way -- this is what it's all about, folks.
What do you think about mixed reality being used in surgical procedures? Tell me in the comments below.