Google Wifi: The perfect solution to patchy home Wi-Fi [Review]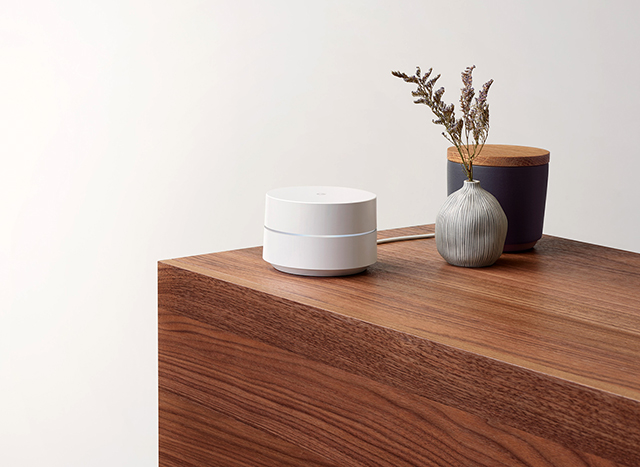 My home office is in the basement, and -- since that's the place where I need the best, most consistent internet access -- so is my router. That, coupled with thick walls and floors, means Wi-Fi in certain other parts of the house tends to be patchy, unreliable, and weak.
I've tried several different solutions to address this, including Homeplugs and wireless repeaters, finally settling on ASUS's RP-AC52 Dual-Band Wireless Range Extender a couple of years ago. But needing to extend my Wi-Fi reach further, I was faced with having to once again look for a solution to my conundrum, and I've found it thanks to Google.
Google Wifi is a mesh solution -- a smart home networking system that creates a whole home wireless network. It's far from the only such product available to buy, but it's very elegant and incredibly easy to set up.
Getting Started
Setting up Google Wifi is just a matter of downloading the free Google Wifi App for iOS or Android, and then connecting your first (or only, if you have a small home) Wifi point to your power supply and your modem. Google Wifi comes with everything you need to accomplish the task.
Launch the app and it should identify the Wifi point and connect to it. You'll then be prompted to enter an SSID for your network, and a password for devices to connect to it.
If you choose to create a mesh network by installing one or more additional points in your home (I have three in total), all you have to do is plug in each point in turn -- preferably no more than two rooms away -- and use the app to connect the new points to the original one.
It doesn't take long, and once the mesh has been created, the app will check everything is working, and perform tests to make sure the connection and speed is as it should be.
The whole process should take no more than around 10 minutes to complete, and then it's just a matter of connecting your various devices to the new network.
Tech Specs
Wireless Connectivity
1 AC1200 router
2x2 Wave 2 Wi-Fi
Expandable Mesh Wi-Fi
Simultaneous dual-band Wi-Fi (2.4GHz/5GHz) supporting IEEE 802.11a/b/g/n/ac
TX Beamforming
Bluetooth Smart Ready
Wired Connectivity
2 Gigabit Ethernet ports per point. Ports can be configured as WAN or LAN
Security
WPA2-PSK
Automatic Security updates
Trusted platform module
Design
Most of the other routers I've had in the past have looked like, well, routers. Google Wifi doesn't. It's an attractive white circular device with a thin white LED band in the center (the app lets you control the LED brightness, or turn it off altogether, if you prefer). The router looks not unlike an upside down smoke detector. But a nice one. The Ethernet ports, accessible underneath, are a useful inclusion, but there are no USB ports unfortunately.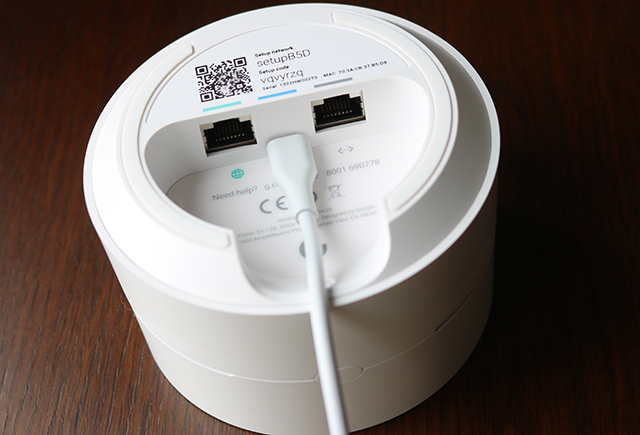 The App
This is where Google Wifi really shines. There are three tabs -- the first provides information on what's been happening with your hardware, including speed results, and handy tips. The second tab shows the state of your network and how many devices are connected to it. You can tap any of the circles on this screen to see usage and speed information, Wifi point strength, and connected device status. You can see at a glance how much uploading and downloading a device has done in the last five seconds. This time window can be expanded to 1 day, 7 days, 30 days or 60 days.
The final tab includes shortcuts to Wifi settings. The default ones are Network Check, Priority Device (you can prioritize Wi-Fi traffic to any device, handy if you're streaming video, for example), and Show Password.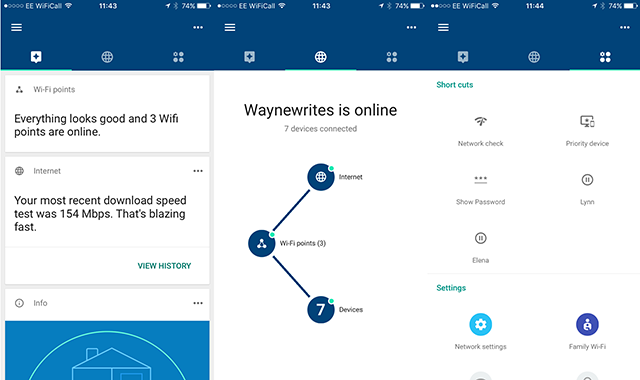 Settings includes access to Network Settings, Family Wifi (where you can pause the internet for some or all devices, and set access schedules), Guest Wifi (you can share this with anyone directly from the app), and Home Control (where you can manage compatible controllable devices).
There are lots of sub-menus to discover throughout, and it will take a while to uncover everything. You can add additional managers to your network, and tweak the privacy settings, so you can choose exactly what performance details are shared with Google.
Performance
Overall I've noticed a marked improvement in Wi-Fi coverage inside the house. Google Wifi's app notes that wireless signal strength in the kitchen is Fair, rather than Good, but it used to be pretty much non-existent before, so no complaints there, and the signal extends out just far enough into the garden for my Weather Station to now connect to the network.
Google Wifi automatically selects a clear channel and switches between the two available frequency bands (2.4GHz and 5GHz) as required, which is great, and running multiple tests around the house showed it to be consistently fast.
With my old setup, my iPhone 7 was regularly switching between different networks, but it doesn't have to do that now as Google Wifi has the same SSID regardless of which point I'm connected to.
Verdict
There's little to dislike about Google Wifi. It looks good, it's very easy to setup, adding more points to your network couldn't be simpler, and it provides solid, reliable coverage everywhere. There are lots of useful features to play around with too.
The only downside is technology such as this doesn't come cheap. A single Wifi unit costs $129/£129 and, depending on availability, you can buy 2 or 3-packs (the latter is currently priced at $299). Shop around however, and you might be able to find some good bargains.