Google bringing Gmail 'Smart Reply' to iPhone and Android -- company will read your emails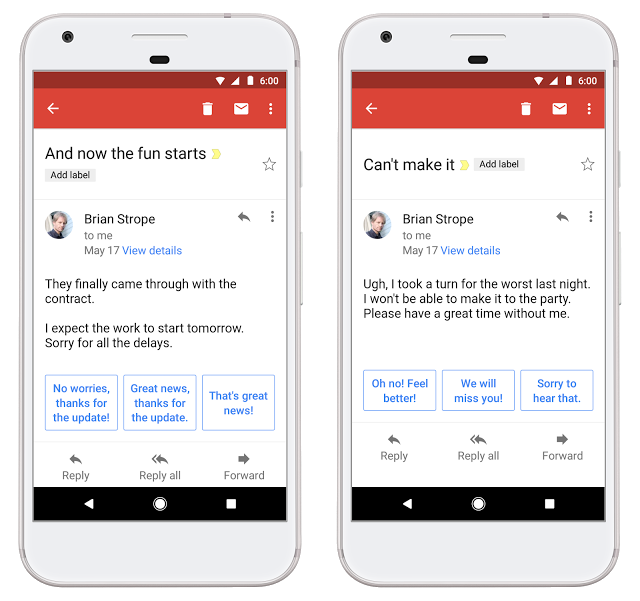 Today is the start of Google I/O 2017 -- be sure to watch the keynote here. There will be plenty of interesting announcements from the company. While much of it will be developer focused, there is sure to be news that will tickle the fancy of consumers too.
Gmail is one of Google's most popular services, and today, the company announces that it is bringing a cool feature to it -- Smart Reply. What is it? Well, the search giant's computers will read your emails, and then offer suggested replies. The service will even use machine learning to improve by reading your replies too. Understandably, some people will have privacy concerns.
"Last year we launched Smart Reply, a feature for Inbox by Gmail that uses machine learning to suggest replies to email. Since the initial release, usage of Smart Reply has grown significantly, making up about 12 percent of replies in Inbox on mobile. Based on our examination of the use of Smart Reply in Inbox and our ideas about how humans learn and use language, we have created a new version of Smart Reply for Gmail. This version increases the percentage of usable suggestions and is more algorithmically efficient," says Brian Strope, Research Scientist, and Ray Kurzweil, Engineering Director, Google Research.
Strope and Kurzweil further say, "So far we see that the system can find responses that are on point, without an overlap of keywords or even synonyms of keywords.More directly, we're delighted when the system suggests results that show understanding and are helpful. The key to this work is the confidence and trust people give us when they use the Smart Reply feature. As always, thank you for showing us the ways that work (and the ways that don't!). With your help, we'll do our best to keep learning."
Ultimately, users must trust Google in more ways than one. Of course, there are the aforementioned privacy concerns. Do you really want the search giant reading and analyzing your communications? Keep in mind, however, the company already does this for advertising purposes. In other words, Google already reads your emails, so you might as well get more benefit from that, right?
You will need to trust in Google's responses too. If you accidentally select a response, not only could it be inaccurate, but potentially embarrassing too. Users would be wise to act cautiously, and use some trial and error before leaning on it too heavily.
Are you excited to use this on Gmail for iOS and Android? Tell me in the comments below.