Panasonic unveils Toughbook 33 2-in-1 detachable rugged laptop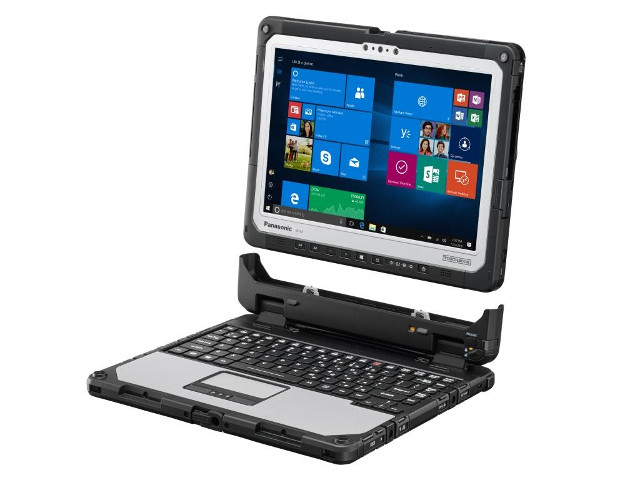 While some people may feel that their office job is stressful -- and maybe it is -- there are workers in the world that do physically hard work that is much more strenuous. They may work in dangerous and dirty conditions where not only is their health at risk, but so too is their computer. For instance, they may work in a location with tremendous dust, risk of flooding, and falling debris. For these jobs, an extremely rugged laptop or tablet could be needed.
When it comes to rugged computers, Panasonic's legendary Toughbook laptops are always a wise choice. These computers have a reputation for surviving really rough conditions. Today, the company announces its latest bad-ass notebook -- the Toughbook 33. Not only is it a laptop, but a detachable tablet too.
"Designed in consultation with Toughbook device users from a number of demanding industries including police, fire, government and enterprise professionals, the 12-inch fully-rugged 2-in-1 detachable laptop is designed to meet MIL-STD-810G and IP65 standards to perform in even the most grueling and extreme conditions. The Toughbook 33 2-in-1 laptop comes with a groundbreaking 3:2 display making it easier to handle, and ideal for workers viewing business applications like law enforcement officers using Computer Aided Dispatch (CAD). Other benefits of a 3:2 over a widescreen include less vertical scrolling, an aspect ratio that better approximates the feel of 8.5 x 11 paper and less interference around airbag zones for better vehicle-occupant safety," says Panasonic.
The company further says, "The 1200 nit QHD screen incorporates a 15-percent larger display than any other device in its class and is the highest resolution as well as brightest 2-in-1 display in the industry. The combination of an infrared webcam and the Windows Hello application allows customers to use facial recognition, iris scanning or fingerprint scanning for user authentication1,2. The Toughbook 33 2-in-1 laptop is built for maximum mobility with two twin hot-swappable batteries that provide 10 hours of life based upon MobileMark 2014. In addition, the optional Long Life Battery configuration doubles battery life to 20 hours for the most demanding mobile professionals. The Toughbook 33 laptop provides six flexible usage modes and offers two keyboards to choose from to accommodate the unique needs of different mobile professionals."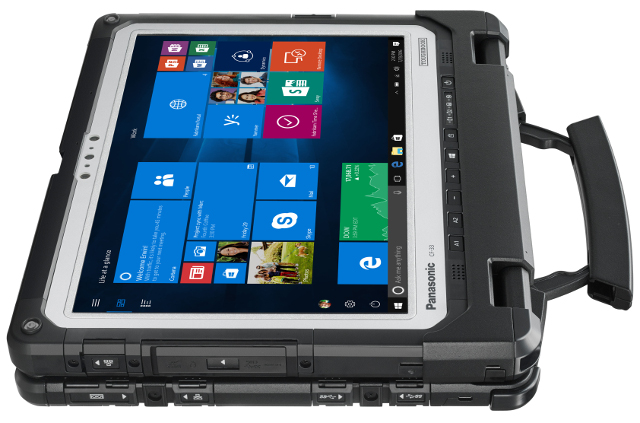 Panasonic shares the following specifications and features.
Fully Rugged Design: Magnesium alloy chassis. MIL-STD-810G and IP65 all-weather design in addition to an IP55 digitizer pen for workers that need the highest levels of writing, drawing or signature accuracy in the toughest of weather conditions.
Processor and Operating System:
Intel Core i5-7300U vPro 2.6GHz Processor (opt. i7-7600U), Windows 10 Pro 64-bit
Intel Core i5-6300U vPro 2.4GHz Processor (opt. i7-6600U), Windows 10 Pro 64-bit with Windows 7 Professional 64-bit downgrade
Anti-Reflective Display: 12.0" 3:2 QHD 2160x1440, capacitive gloved multi touch with IP55 digitizer stylus pen. Wide view angle display with direct bonding, 1200 nit sunlight-viewable screen
Connectivity: Wi-Fi (802.11a/b/g/n/ac), Bluetooth, dual pass-through antenna. Optional Dedicated GPS and/or 4G LTE-Advanced
Storage: 256GB SSD with heater (optional 512GB), 8GB onboard RAM (optional 16GB)
Long Battery Life: 10 hours battery life (optional 20 hours), twin-battery design for hot-swap battery replacement
Cameras: 1080p webcam, 8MP rear camera1
Windows Hello: Facial recognition, iris scanning or fingerprint scanning1,2
Integrated Options: Choice of Barcode or Serial or 2nd USB, Choice of Insertable SmartCard or Contactless SmartCard or Fingerprint readers
Backwards Compatibility: With previous generation of Toughbook 31 vehicle docks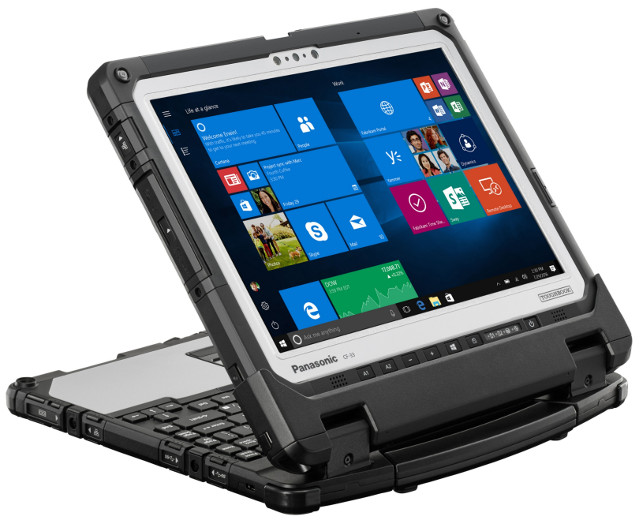 If you are wondering why the Windows 7 configurations require an older processor, please know that Microsoft is not supporting the newest chips from Intel or AMD on any operating system that predates Windows 10. In other words, don't blame Panasonic -- it is a Microsoft-made dilemma. With that said, Windows 10 has matured quite a bit, and businesses would be wise to give it a look.
If you want to buy one or more of these Toughbook 33 machines for your organization, it can be had in the next couple of weeks starting at $3,649. While that may seem expensive, it really isn't. If your business deals with rough conditions, it could be much more costly to constantly replace cheaper machines. With Panasonic Toughbook, you certainly get what you pay for.