Elgato Thunderbolt 3 Dock for MacBook Pro and Windows 10 devices arrives next month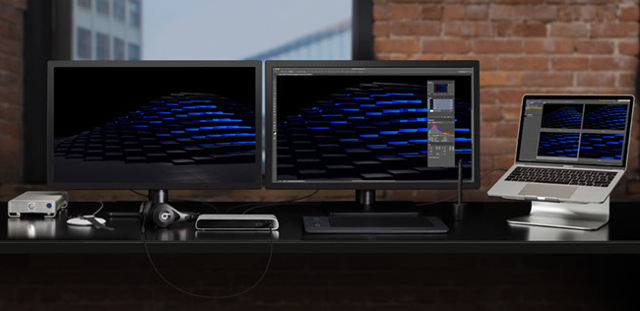 The MacBook Pro only has USB-C/Thunderbolt 3 for connecting devices. For many, this is not a problem. After all, with wireless accessories, it is quite possible that a user might never need to connect anything by wire -- other than the charger, of course.
With that said, some users absolutely need to connect legacy devices, such as USB Type-A hard drives, mice, keyboards, and more. Heck, they may even need to connect to a monitor or Ethernet. Luckily, Thunderbolt 3 makes this a breeze, as single-cable docking solutions can bring all of the needed ports and more. Best of all, they can charge the computer too. Today, Elgato announces that its Thunderbolt 3 Dock will be available for purchase on June 6. While it looks amazing, it is certainly not an inexpensive affair.
"Thunderbolt 3 Dock offers two Thunderbolt 3 ports: one to connect and charge your computer, and one to extend the versatility of Thunderbolt even further. Featuring a DisplayPort, the dock will drive up to two additional displays without compromising their stunning 4k resolution at smooth 60 Hz frame rates. Thunderbolt 3 Dock is equipped with three SuperSpeed USB 3.0 ports to ensure that multiple devices can be operated at full speed. A 15-inch MacBook Pro is charged at 85W, USB-C accessories receive up to 15W of power, while the built-in USB 3.0 ports provide boosted charging for your iPad or iPhone. Moreover, an integrated Gigabit Ethernet port enables maximum network performance, while an amplified audio output and a separate microphone input deliver crystal-clear sound."
ALSO READ: LaCie unveils Thunderbolt 3 '2big Dock' with up to 20TB of storage for Apple MacBook Pro

Elgato shares the following specs.
•2x Thunderbolt 3 (USB-C) with support for:
- Thunderbolt (40 Gb/s)
- MacBook Pro Charging (up to 85 W)
- Device Power (up to 15 W)
- USB 3.1 Gen 2 (up to 10 Gb/s)
- DisplayPort (up to 4K)
• 1x DisplayPort with support for:
- DisplayPort 1.2
- HDMI 1.4b
• 1x RJ45 10/100/1000BASE-T Gigabit Ethernet
• 3x USB 3.0 (5 Gb/s, 1.5 A, USB Battery Charging 1.2 & UASP)
• 1x 3.5 mm Headphone Output (amplified analog stereo)
• 1x 3.5 mm Microphone Input (mono)
• 1x Power Input (DC 20 V, 8.5 A)
•DisplayPort output: up to 4096 x 2160 pixels
•Thunderbolt 3 output: up to 5120 x 2880 pixels
•Dual displays: up to 4096 x 2160 pixels each
•Video output format and frame rate may be limited by host capabilities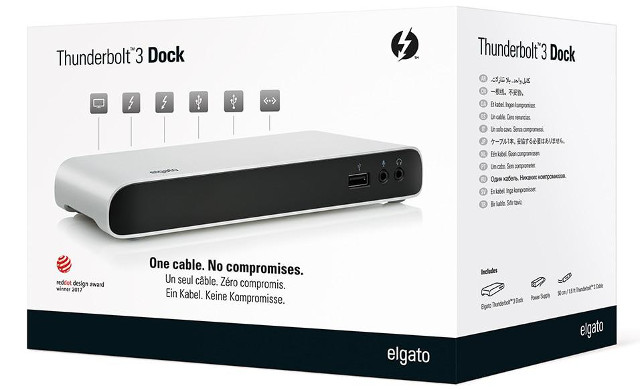 Like I said, the Elgato Thunderbolt 3 Dock is not inexpensive. How much will it cost? $300. With that said, it is not a mere USB-C dock, but a true Thunderbolt 3 solution. Not only will it work on the MacBook Pro, but any Windows 10 device that has Thunderbolt 3 too. Being able to elegantly convert your laptop into a desktop with a single cable could make it worth the price.
Do you have a need for such a solution? Tell me in the comments below.