LaCie unveils Thunderbolt 3 '2big Dock' with up to 20TB of storage for Apple MacBook Pro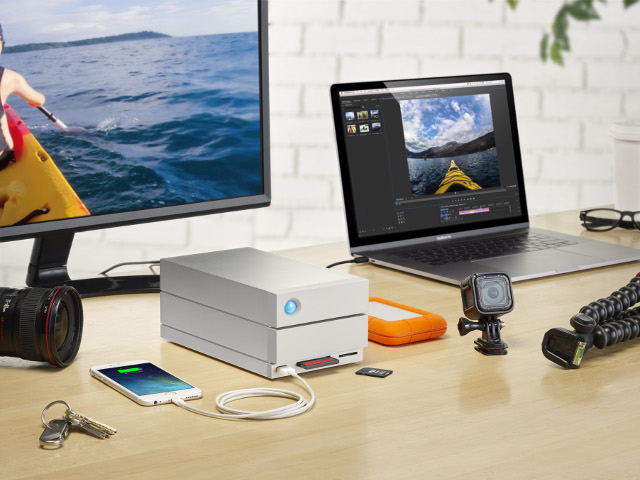 The MacBook Pro is a wonderful laptop, but its lack of ports is a hardship for some. While you can leverage dongles and adapters, that is hardly elegant. Luckily, since Apple's laptop supports Thunderbolt 3, a compatible single-cable dock can transform it into a quality desktop experience.
Today, LaCie announces an absolutely genius such solution, called "2big Dock." This Neil Poulton-designed docking station offers DisplayPort for connecting a monitor (resolutions up to 4K UHD), plus the ability to charge the laptop using the same cable used for connectivity. It also has a USB Type-A port, Type-C port, plus full-sized SD and Compact Flash slots. The real magic is that it also doubles as a storage drive, offering large capacities of 12TB, 16TB or 20TB!
"Creative professionals juggle massive amounts of data and tight timelines, so capacity and speed are critical. With up to 20TB of storage -- a twenty five percent increase over the previous version -- the LaCie 2big Dock offers professionals enough space for large video and photo libraries including up to 650 hours of 4K 30fps footage or 200,000 raw images. With speeds of up to 440MB/s, users can transfer one hour of 4K footage in one minute. It also means almost zero lag time when browsing photo libraries in Adobe Lightroom. Working with compressed 4K or HD footage, videographers can edit quickly and smoothly in Adobe Premiere Pro," says LaCie.
The company further says, "More than storage, the LaCie 2big Dock is a powerful docking station that helps photographers and videographers simplify their workflows. Front-facing SD and CF Card slots allow the pro to directly ingest files off memory cards from a drone, DSLR, GoPro and other devices into Adobe Lightroom or Premiere Pro. The USB 3.0 hub charges a phone or connects a shuttle drive or digital camera to offload footage or files. Via DisplayPort, professionals can connect the LaCie 2big Dock to high-resolution 720, 1080p, or even 4K displays. Dual Thunderbolt 3 ports can also power a compatible laptop while simultaneously daisy-chaining up to five additional Thunderbolt or one USB-C drive. Plus, the USB 3.1 port enables universal compatibility with USB-C and USB 3.0 computers via the included adapter cable."
This slideshow requires JavaScript.
Unfortunately, your excitement for this product may be short-lived. You see, it will not be released until the summer, meaning you will have to wait a rather long time to get it. Pricing is a mystery for now. Also, while it is designed for a Mac, it should work perfectly fine with Windows 10 too.